Bangladesh win hat-trick title of Bangabandhu Cup Int'l Kabaddi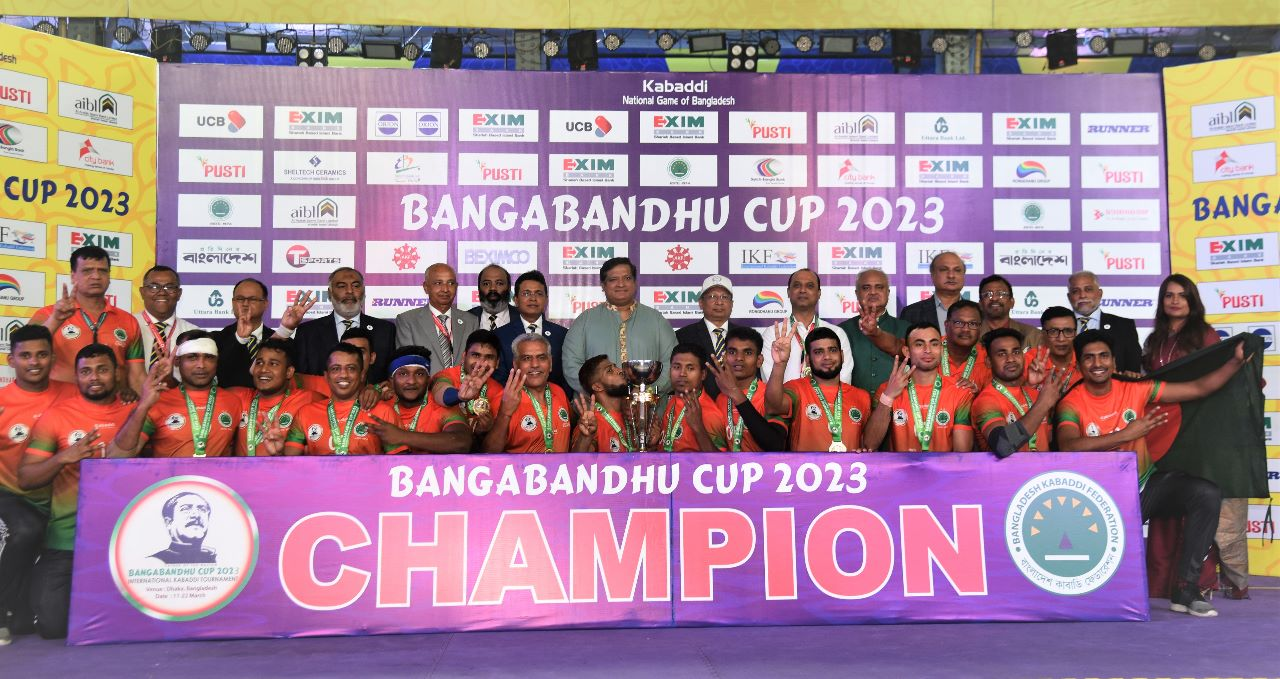 DHAKA, March 21, 2023 (BSS)- Bangladesh won the hat-trick title of prestigious Bangabandhu Cup Int'l Kabaddi tournament beating Chinese Taipei 42-28 in the final held today (Tuesday) at Shaheed Noor Hossain National Volleyball Stadium in the city.

Bangladesh won the title first edition of the meet in 2021 and successfully retained the title for two consecutive editions.
The first edition was participated by five teams, the second one involved eight teams in 2022 and this year the third one- involved 12 teams.

It can be mentionable that Bangladesh never tasted any defeat in the three editions till date.

Both the finalists Bangladesh and Chinese Taipei qualified for the next edition of Kabaddi World Cup billed to be held next year.

However Chinese Taipei offered some strong challenge from the very beginning with their agility and fitness and it was a neck to neck fight in the initial minutes. Chinese Taipei led the initial minutes and in the sixth minute the score line was tied 6-6.
Bangladesh for the first time took the lead in the 11th minute with the scoreline of 8-7. Bangladesh earned three Lonas in the final and the first one was inflicted in the 15th minute. A fine raid by inspiring skipper Tuhin Tarafder saw two Taipei players ousted consequentially ending in the first lona.

Bangladesh finished the first half with lead of 20-14.

After the change of ends, the hosts team continued their onslaught and it was Tuhin Tarafder who carried the flag again. He managed to get past the two existing Taipei players resulting the second lona of the match. Bangladesh started to fire all cylinder from that moment and the margin of points also started to get bigger. Efficient time and player management never allowed Taipei to get past the gridlock of Bangladesh and Bangladesh had the last laugh.

Tuhin Tarafder with his 16 points grabbed the best player and best catcher of the final award while Mizanur Rahman was adjudged the best player and best raider of the meet.

State minister for Youth and Sports Mohammad Zahid Ahsan Rusel, MP, distributed the prizes as the chief guest. Chowdhury Abdullah Al Mamun, the president of Bangladesh Kabaddi Federation and the Inspector General of Bangladesh Police presided over the occasion. Habibur Rahman, the Additional IG of Bangladesh Police and the General Secretary of Kabaddi Federation, Mohammad Sarwar, the secretary general of Asian Kabaddi Federation, Sathasivanm Munisami, the secretary general of Int'l Kabaddi Federation and the representatives of sponsors was also present among others.