Establishing pro-people newspaper is a big challenge: Hasan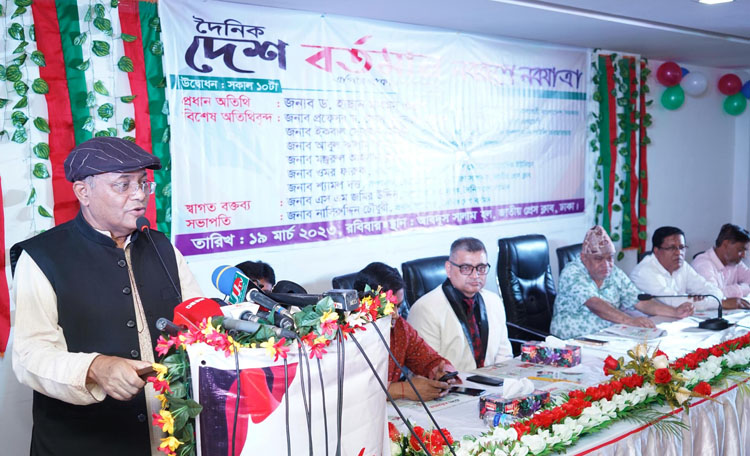 DHAKA, March 19, 2023 (BSS) - Information and Broadcasting Minister Dr Hasan Mahmud today said it is a big challenge to present proper news items and establish a newspaper for the masses in the current era of competition in publishing news in the quickest possible time.
"In the last 14 years, the country witnessed an exponential growth of mass media side by side addition of many challenges. A competition of presenting the latest news quicker than other media has begun," he said.
"To do this, it is seen many times that some news items are published which are not correct and misleading. It occurs in online media to a great extent. So, responsibility is required side by side independence," added Hasan.

He was addressing, as the chief guest, the fresh publication ceremony of Dainik Desh Bartaman at the Jatiya Press Club here.
The minister said newspapers or any media are not for only presenting news or entertainment programmes rather a newspaper can open the third eye of the people or unearth many hidden issues.
Hasan, also Awami League joint general secretary, said media can draw the attention of responsible officials about which society, state and government has no attention and it can give suggestions about what to do.
"We live in a multidimensional, democratic, debate-oriented society. Press freedom is very essential to build the democratic social system on a strong base," he said.
He said the extent of freedom the media enjoys in Bangladesh, the way it can freely write everything, is not possible in many developing countries of the world.
In many developed countries, media enjoys freedom as well as it also has to be responsible about their actions and publications, he mentioned.
Media has to pay fine or face punishment for making mistakes or presenting false news in those countries, he said.
The minister said there is no such instance so far in Bangladesh. Sometimes, Press Council rebuked some media as the council has no more power apart from rebuking.
"So, we need to ensure our concerted responsibility side by side press freedom," he said.
The information minister said a newspaper can also play a massive role in creating the thoughts of children, juveniles and youths.
"In our childhood, there were special pages for children in many dailies. I also wrote there and it was very enjoyable. But now there is no page for children. It has been lost. Newspapers have pages for cooking and fashion and make-up but children's page has been lost in many cases," he said.
He requested Dainik Desh Bartaman to publish a page for children at least fortnightly in the newspaper.
"It will play an important role for creating thoughts and flourishing the talent of our juvenile and youth," he said.
Appreciating investigative reporting on hidden issues in newspapers, Hasan urged the media to unearth the secret and hidden issues of society.
The AL joint general secretary said Bangabandhu's daughter Prime Minister Sheikh Hasina has taken many tremendous measures for the expansion of mass media in Bangladesh.
That is why, the number of daily newspapers was only 450 in 2009 and now it is more than 1250 while the number of television channels was only 10 in 2009 and now 36 TV channels are in transmission and more channels will start broadcasting soon.
Licenses have been given to 24 private radio channels and of them, 14-15 are in transmission while around three dozens of community radio channels have license and most of them are in transmission, he mentioned.
The minister said there has been a massive expansion of online media in the last 14 years as thousands of online media remain functional.
More than 5000 online media have applied for registration and several hundred online media have already got registration, he said.
Dainik Desh Bartaman Chief Editor Nasiruddin Chowdhury chaired the meeting while Daily Observer Editor Iqbal Sobhan Chowdhury, Bangladesh Federal Union of Journalists (BFUJ) President Omar Faruque, Desh Bartaman Editor and Publisher SM Jamir Uddin, Dhaka Union of Journalists (DUJ) Vice-President Manik Lal Ghosh and senior journalist Shahin-ul Islam Chowdhury addressed it, among others.
Later, the fresh launching of the newspaper was inaugurated with cutting a cake on the occasion.