UK's Cross-Party delegation meets PM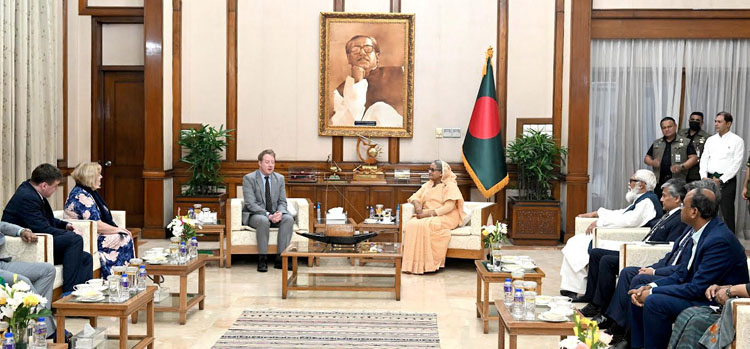 DHAKA, March 18, 2023 (BSS) - A Cross-Party delegation of the United Kingdom today paid a courtesy call on Prime Minister Sheikh Hasina at her official Ganabhaban residence here tonight.
The delegation members included Paul Bristow, MP, Jane Hunt, MP, Paulette Hamilton, MP, Antony Higginbotham, MP, and Tom Hunt, MP.
During the meeting, Rohingya problem, development of the socio-economic advancement and women empowerment in Bangladesh were prominently discussed.
PM's Deputy Press Secretary KM Shakhawat Moon briefed media after the call on.
The Prime Minister welcomed the delegation of the Cross-Party in Bangladesh and apprised them of various measures taken by her government for overall development of Bangladesh.
The delegation highly praised the remarkable success and achievement in agriculture, education, health particularly in pharmaceutical and women empowerment under the dynamic leadership of Prime Minister Sheikh Hasina.
They also appreciated the role of Saima Wazed, daughter of Prime Minister Sheikh Hasina, to deal with the mental health.
Sheikh Hasina said the people did not know anything about mental health and her daughter Saima Wazed has made it familiar to the people.
The Prime Minister told the delegation that Bangladesh has been exporting various medicines in many countries.
About the Rohingya issue, she said Bangladesh wants Rohingya problem to be resolved through discussions.
"Any big problem can be resolved through discussion," she said, referring to the foreign policy formulated by Father of the Nation Bangabandhu Sheikh Mujibur Rahman, "Friendship to all, malice to none."
Talking about women empowerment, she said her government had taken extensive measures to ensure empowerment soon after assuming office in 1996.
As part of the continuation of the measures, women are now being entrusted with the responsibilities of the Leader and deputy leader and speaker of the parliament, justices of the apex court, secretaries of the government and as high civil and military officials.

The Prime Minister said they have taken housing schemes to make sure none in Bangladesh remains homeless and landless following the footprints of the Father of the Nation.
Prime Minister's Advisor on Private Industry and Investment Salman Fazlur Rahman, Ambssador-at-Large M Ziauddin, State Minister for Foreign Affairs M Shahriar Alam and Prime Minister's Principal Secretary M Tofazzel Hossain Miah, among others, were present.