Birth centenary implementation body pays homage to Bangabandhu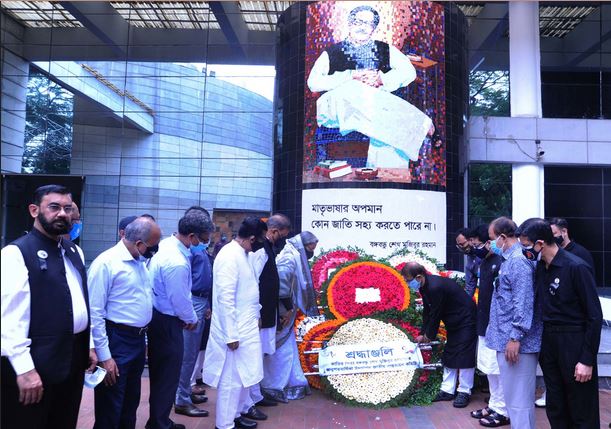 DHAKA, Aug 15, 2021 (BSS) - Father of the Nation Bangabandhu Sheikh
Mujibur Rahman's Birth Centenary Celebration National Implementation
Committee today paid homage to Father of the Nation Bangabandhu Sheikh
Mujibur Rahman marking the National Mourning Day and the 46th
anniversary of his martyrdom.
On behalf of the implementation committee, Education Minister Dr Dipu
Moni, State Minister for Public Administration Farhad Hossain, State
Minister for cultural Affairs KM Khalid, Chief Coordinator of the
committee Dr Kamal Abdul Naser Chowdhury, Secondary and Higher
Education Division Secretary Md Mahbub Hossain, Director General of
the International Mother Language Institute (IMLI) Professor Dr Jinnat
Imtiaz Ali, Journalist Subhash Singha Roy and Additional Secretary of
the National Implementation Committee Office Mohammad Emdad Ullah Mian
placed wreaths at the mural of the Father of the Nation in front of
the IMLI in the city, said a press release.
The officials and employees of the office of the implementation
committee also paid homage to the Father of the Nation by laying a
wreath at the mural of Bangabandhu.