Freedom of expression in Bangladesh is example for many countries: Hasan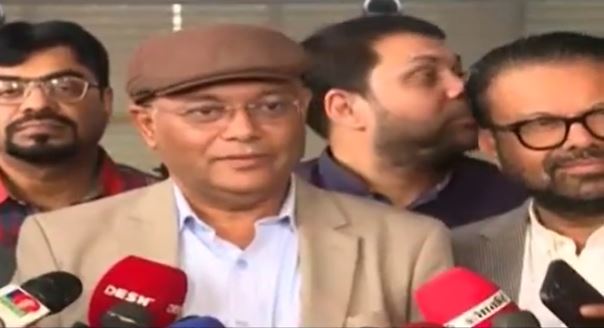 DHAKA, Feb 19, 2023 (BSS) - Information and Broadcasting Minister and Awami League (AL) Joint General Secretary Dr Hasan Mahmud today said freedom of expression in Bangladesh is an example before many developing countries.
"We have freedom of expression in our country. But we don't think about our obligation in many cases. The mass media in developed countries are aware of their responsibilities along with freedom. In this case, there is a lacking in our country. But, freedom of expression in Bangladesh is an example before many developing countries," he said.
The minister said this to reporters while replying to a query after addressing district correspondents' conference of Desh TV, a private television, at Dhaka Club here.
Hasan said BBC office in India had been under search for the last couple of days for some reports. The BBC made many wrong and untrue reports in Bangladesh too, but no police or tax officer went to BBC office, he added.
Criticising a comment of BNP secretary general Mirza Fakhrul Islam Alamgir as he told that people are deprived of democracy and right to free-thinking, the minister said BNP's founder Ziaur Rahman had captured the power at gunpoint by killing democracy. And he formed the party by distributing the leftover of power, he added.
He said Ziaur Rahman had grabbed the power after killing Bangabandhu and he killed hundreds of soldiers to keep his power intact. Even, he killed about 22,000 leaders and activists of Awami League, said Hasan.
The minister urged Mirza Fakhrul to see his own face in mirror.
Earlier in the function, the minister said mass media is a mirror of society and it is needed to present the scenario of society in the mass media. For this, the mass media has to highlight the disharmony in the society, good deeds of the neglected people and should praise the good works, he added.
Hasan hoped that the TV channel (Desh TV) would play an advanced role to this end.
Desh TV managing director Arif Hasan, Press Institute of Bangladesh director general Zafar Wazed and Jatiya Press Club general secretary Shyamol Datta, among others, addressed the conference with the channel executive committee chairman Towfiqa Karim in the chair.