PM unveils HSC, equivalent results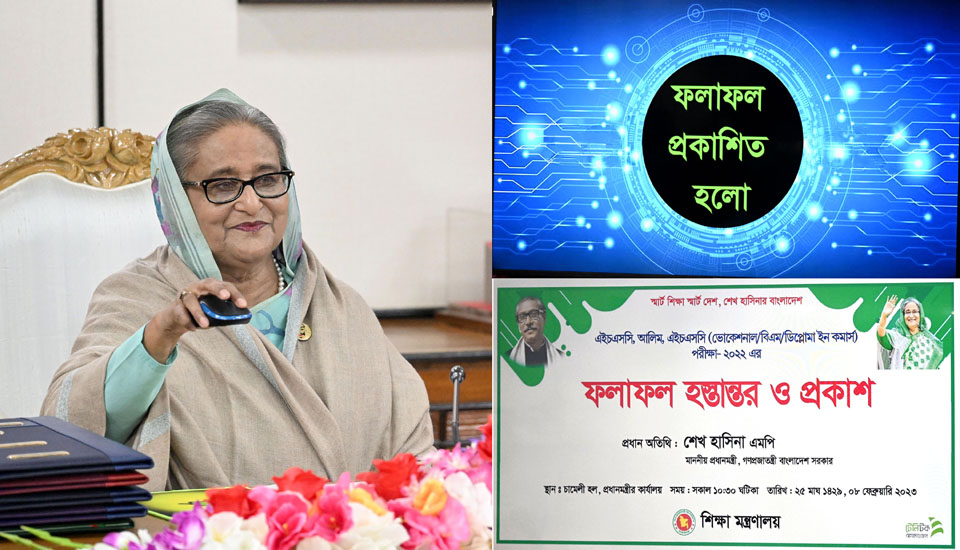 DHAKA, Feb 08, 2023 (BSS) - Prime Minister Sheikh Hasina today unveiled the Higher Secondary Certificate (HSC) and equivalent examinations results.
Releasing the results of 11 education boards after pressing button at her office here this morning, she extended her wholehearted gratitude to the education ministry and other concerned for holding examinations and publishing results timely.
Education Minister Dr Dipu Moni and Deputy Minister for Education Mohibul Hassan Chowdhoury spoke at the function.
Earlier, the education minister handed over the summary of the combined results to the prime minister.
Later, the chairmen of 11 education boards - nine general boards, one madrasah education board and one technical education board - handed over their respective boards' results to the premier
Secondary and Higher Education Division Secretary Suleman Khan conducted the result handover function.
Educational institutions can download the result sheets clicking the result corner in www.dhakaeducationboard.gov.bd website by using EIIN.
Results can also be downloaded from www.educationboardresults.gov.bd writing roll number and registration number.
Besides, students will be able to collect their result through sending SMS to 16222 and for this, they will need to write first HSC, board's name (first three letters), roll number and year (for example: HSC Dha 123456 2022).
The HSC and equivalent examinations were held between November 6 and December 22 in 2022.
A total of 1,203,407 examinees appeared in the examinations.