Shahriar seeks Eswatini's support for Rohingya repatriation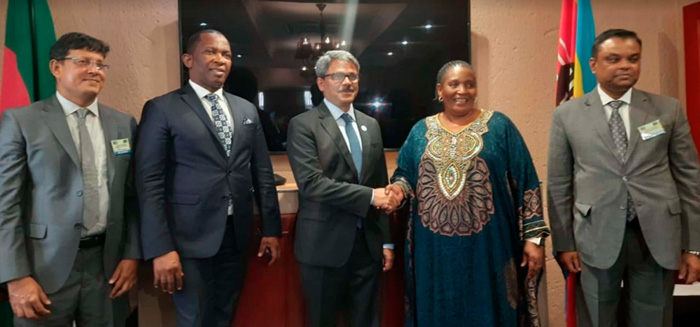 DHAKA, Feb 7, 2023 (BSS) - State Minister for Foreign Affairs Md Shahriar Alam, MP, has held bilateral talks with Thulisile Dladla, minister of Foreign Affairs and International Cooperation of the Kingdom of Eswatini, in Mbabane.
The state minister is now on a two-day official bilateral visit to the Kingdom of Eswatini, said a Foreign Ministry release here this afternoon.
During the meeting, Eswatini minister Thulisile Dladla said Eswatini looks to develop business and investment relations with Bangladesh, suggesting the conclusion of the memorandum of understanding (MoU) between FBCCI and the Eswatinian apex chamber of commerce in the field of business cooperation.
Welcoming the Bangladesh delegation, she stressed on holding of regular bilateral consultations between the foreign ministries to strengthen the existing bilateral ties.
Shahriar Alam conveyed the greetings of President M Abdul Hamid and Prime Minister Sheikh Hasina to King Mswati III.
Expressing happiness over his visit to Eswatini, he commented that both the countries are exchanging support and cooperating with each other at the United Nations (UN) and international organizations.
The state minister stressed on promotion of trade and investment relations between Bangladesh and Eswatini to the mutual benefit of the two countries.
In the context of growing demand for food and essential commodities, Bangladesh and Eswatini may establish cooperation in agro-production, agro-processing and food security areas, he stated.
He said Bangladesh, in the meantime, has achieved remarkable success in agriculture and social development sectors, including achieving targets of the millennium development goals (MDGs).
Bangladesh is a member of the global crisis response group, Shahriar said, adding that Bangladesh is playing a role in climate adaptation and mitigation areas.
Briefing on the opportunities of higher education in Bangladesh private universities, he suggested that Eswatinian students may opt to study in different private universities in Bangladesh.
"There may be cooperation between government and private sectors in IT and ICT areas," he added.
During the talks, both sides discussed possibilities of establishing contract farming by Bangladeshi entrepreneurs in Eswatini and agreed to work on the matter. Both sides also agreed to explore possibilities of cooperation in agro-processed and food industries.
The state minister sought support of the Eswatinian government for repatriation of the displaced Rohingya people to their homeland as well as in favour of different Bangladesh candidatures at the UN.
The MoU between Bangladesh and Eswatini on Establishment of Comprehensive Consultation Mechanism and the Memorandum of Agreement on Contract Farming and Agricultural Cooperation were signed by Md. Shahriar Alam, MP and his counterpart Ms. Thulisile Dladla.
The High Commissioner of Bangladesh to South Africa and high officials of the ministry of foreign affairs were present there.