PM urges all to make investment in country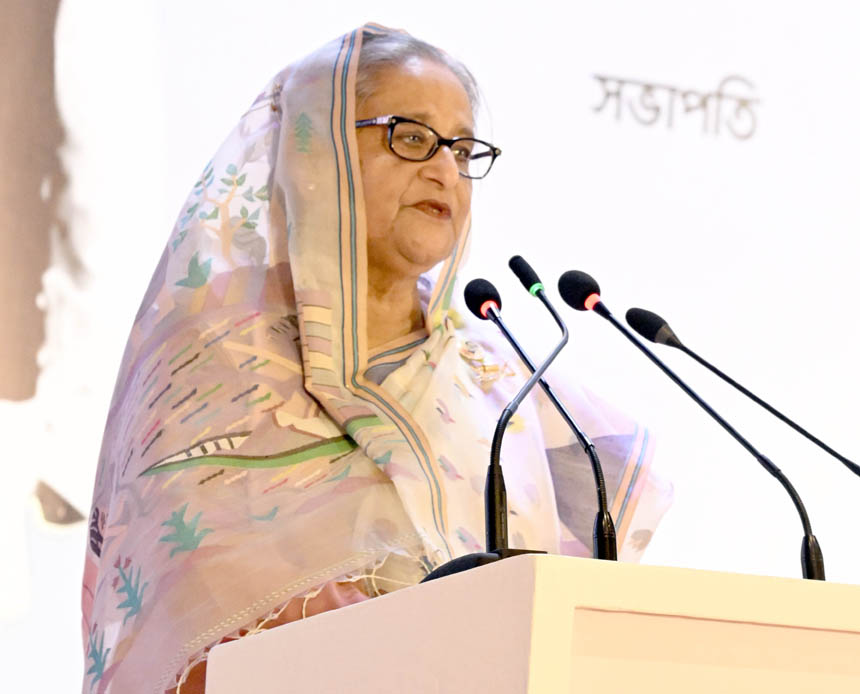 DHAKA, Feb 5, 2023 (BSS) - Prime Minister Sheikh Hasina today called upon all to make investments in the country for building a developed Bangladesh.

"Please everyone make investment (in the country). It will not only bring benefit for yourself, but also for the country," she said.

The premier made the call while inaugurating the newly constructed "Biniyog Bhaban" (Investment Building) of Bangladesh Investment Development Authority (BIDA) as chief guest in the city's Agargaon area.

The multi-storey Investment Building would be used as the offices of three agencies –BIDA, the Bangladesh Economic Zones Authority (BEZA) and the National Skills Development Authority (NSDA).

The Prime Minister laid emphasis on expansion of the export basket incorporating new export items alongside exploring new markets.

"Bangladesh will progress further through both local and foreign investment, and Bangladesh will be a developed country by 2041," she said.

Mentioning that the main target of her government is to develop the people of the grassroots level, she said "Their purchasing power is increasing, their per capita income is increasing and in this case our own market is being created."

In this connection, she also said that the government has established communication with the neighbouring countries including Bhutan, Nepal, India, Thailand and Myanmar as Bangladesh is geographically located in a good position.

She noted that South Asia is a market of 300 crore people and anyone can take the advantages of it.

Sheikh Hasina mentioned that an international airport is being constructed in Cox's Bazar, besides establishing direct rail communication with Dhaka and developing roads.

"Bangladesh could be a bridge between the East and the West. We are developing Bangladesh in that way," she said.

She said the geopolitical location is in favour of Bangladesh and that is why the government is establishing deep sea port in Matarbari, the development of Payra port alongside Chattogram and Mongla ports is going on and Bay terminal is being built along with and other facilities.

"I hope this forward march of Bangladesh will continue," she added.

The Prime Minister urged all the businessmen to work with confidence as the government will build the country as smart Bangladesh where people will be smart, economy will be smart, business will be smart and all works will be done digitally.

She said the government is setting up hi-tech parks and incubation centres where people are getting training and this is a huge place of investment.

She opined that agriculture and ICT are very important for Bangladesh. "Our children are very meritorious and they learn so quickly. You (businessman) have to utilise it."

The Prime Minister mentioned that her government has provided cent percent electricity across the country. She, however, said the users should pay the actual cost to avail themselves of gas and electricity supply.

"The gas and electricity supply can be given, if all agree to pay the purchasing costs. How much subsidy can be given to it? And why should we give subsidies to it?" she said, adding that the government is providing subsidies to agriculture and food production in the greater interest of the common people.

The premier said the production cost of per kilowatt electricity is Taka 12, but its price is only Taka 6. Despite this, the government is criticised for this electricity tariff, she said.

In England, the electricity price has been increased by 150 percent. "We've not reached this stage (such a worse situation) yet," she said.

Sheikh Hasina urged the country's people to make investments in a larger way in the food and agro-processing industry, particularly in the 100 economic zones, now being developed throughout the country.

She said there is high demand for food in the world due to the Covid-19 pandemic and the ongoing war. The food prices soared significantly, she said.

With Prime Minister's Private Industry and Investment Adviser Salman F Rahman, MP, in the chair, BIDA Executive Chairman Lokman Hossain Miah delivered the welcome address.

Principal Secretary to the Prime Minister M Tofazzel Hossain Miah was also present, among others.



The Prime Minister sought foreign investments and wished that the country's youths would turn themselves into investors.

"We want foreign investment. But, simultaneously we want that our youth folk will be investors," she said.

About developing entrepreneurship, she said that they have taken initiatives to develop entrepreneurship in the country and also launched start-up programme for the young generation with separate budgets.

"We've revised company law so that single-person based company can be formed and the country's young generation can move up," she added.

She observed that Bangladesh's one of the advantages is that it's young generation is very skilled.

"We are setting up technical training centre in each Upazila for the skilled young generation and prepare themselves appropriately," she added.

Sheikh Hasina said her government is working relentlessly to produce skilled Human Resources.

Talking about environment friendly industries, she said the government has reduced taxes on equipment in the convenience of setting up environment friendly industries in the country.

She said that they are also taking measures to ensure suitable atmosphere for the labourers in the factories.

To this end, measures have been taken to inspect factories by appointing inspectors, she added.

She revealed that meanwhile over 5,000 factories have been inspected while measures have been taken to inspect another 10,000 factories.

"We will take all types of measures to make all our factories environment friendly in this way," she added.