AL's Rajshahi rally was 14 times bigger than BNP's one: Hasan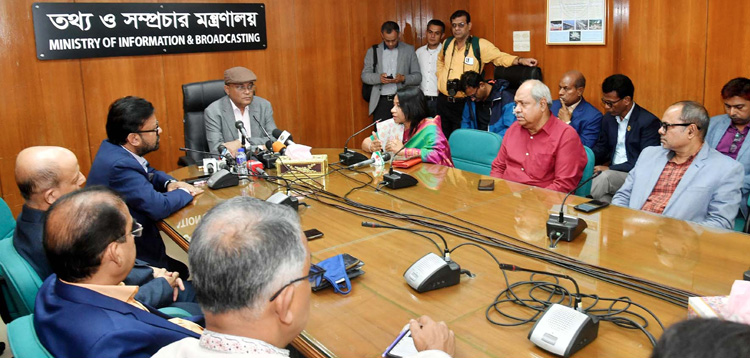 DHAKA, Jan 30, 2023 (BSS) - Information and Broadcasting Minister and Awami League Joint General Secretary Dr Hasan Mahmud today said Sunday's Awami League public rally in Rajshahi was 12 to 14 times bigger than BNP's one.
"In fact, the meeting on Sunday was just extraordinary and the entire Rajshahi city turned into a public meeting. There were minimum 12 to 14 times more people out of the meeting place at Madrasha ground. BNP also held a rally there. But, it is hard to guess that how much bigger was Awami League rally than BNP's one. It was 12 to 14 times bigger than BNP's one," he said.
He said the prime minister has also witnessed the rally from sky. The enthusiasm and eagerness found among the people all over the city to go to the rally was incredible and the rally proves the mammoth support to the premier and her party, he continued.
The minister told reporters replying to a query after exchanging views with the newly elected managing committee members of Jatiya Press Club (JPC) at meeting room of his ministry at Secretariat in the capital.
Replying to another query over a comment of BNP leader Mirza Fakhrul Islam Alamgir, Hasan said BNP's founder Ziaur Rahman had enacted the Indemnity Ordinance, 1975 to stop the trial of the killing of Bangabandhu. Four national leaders were killed in the prison and the trial was also stopped, he added.
Urging Mirza Fakhrul to see his own and party's faces on mirror, the minister said Ziaur Rahman had violated the human rights extremely in the country and he was involved in Bangabandhu killing. Ziaur Rahman became the chief of army after the killing of Bangabandhu, he added.
He said Zia killed hundreds of armed forces' soldiers and officers without any trial to intact his power. Even, many were hanged before the verdict, he added.
Criticising a comment of BNP over polls issue, Hasan said there was a slogan during Zia, Sattar, Khaleda Zia and Ershad tenures and it was- 'Ten hondas, 20 terrorists, smoothen the elections'. They had started the ill culture, he added.
He said the election of February 15 in 1996 was conducted by BNP, but they were survived by more than one month.
He said BNP killed innocent people through patrol bombs and arson attacks in 2013, 2014 and 2015 and BNP leaders including Mirza Fakhrul were the order givers of those attacks.
Earlier, the minister congratulated JPC leaders and said the JPC has been consistently holding elections in a very transparent and peaceful environment through practicing democratic norms. The polls of the JPC would play a role in integrating and spreading democratic practices at all levels, said Hasan.
JPC president Farida Yesmin and its general secretary Shyamal Dutta raised voice demanding the renaming of the metro rail station in front of the JPC 'Bangladesh Secretariat Station' as 'Jatiya Press Club Station', reforming the proposed Mass Media Employees Act and sought cooperation in the construction of a 21-storey building at Jatiya Press Club.
Hasan said discussions were held with the premier over the 21-storey building and with the concerned parliamentary standing committee over the Mass Media Employee Act.
JPC senior vice president Hasan Hafiz, vice president Rezwanul Haque Raza, joint secretaries Ayub Bhuiyan and Md Ashraf Ali, treasurer Shahed Chowdhury, members Farid Hossain, Kazi Rownak Hossain, Shahnaj Siddiqui Soma, Kollyan Shaha, Shanaj Begum Poly, Julhas Alam, Mohammad Momin Hossain and Simanto Khokhan, among others, were present.