Talks of democracy do not suit BNP: Quader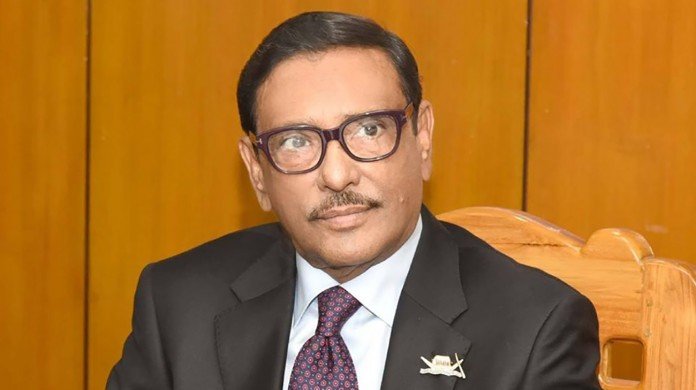 DHAKA, Jan 19, 2023 (BSS) - Awami League (AL) General Secretary and Road Transport and Bridges Minister Obaidul Quader today said the talks of democracy do not match the leaders of BNP.
"How will those who do not have democracy in their own party bring democracy to the country?" he told a press conference after attending the board meeting of Bangladesh Bridge Authority at Setu Bhaban, Banani, in the capital.
Quader said democracy was unchained a long ago under the leadership of Prime Minister Sheikh Hasina and that is why BNP does not need to rescue it.
"They (BNP leaders) should remember how much importance they gave to democracy during their reign," he added.

He said Aziz-mark Commission (election commission), Magura by-polls, the February 15 election and Dhaka-10 by-polls and creating one crore fake voters in 2006 reveal that the BNP does not believe in democracy and the party killed it. "You know the record".

Noting that if there is a Nobel Prize in falsehood, BNP secretary general Mirza Fakhrul Islam Alamgir would have won it, the AL general secretary said BNP lied over the statement of US Assistant Secretary of State for South and Central Asian Affairs Donald Lu.

"No country has any provision to ban any particular state or party. The BNP, not Awami League, should be banned for making falsehood and hatching conspiracy," he said.
Responding to a question whether the AL is announcing counter-programmes with the BNP, Quader said there is no example that the AL resort to clash with BNP in holding its programmes and even Mirza Fakhrul would not be able to give such an example.
Blaming that the BNP sets fire to buses, carries out arson terrorism and attacks on police and creates sabotages in holding its programmes, he said as the AL is in power, it is the responsibility of the AL government to protect the lives and properties of the country's people.
Claiming that the AL never holds rallies occupying roads and streets, Quader said when BNP holds rallies, the roads of their surrounding areas get closed.
Earlier, the board meeting of Bangladesh Bridge Authority was held at Setu Bhaban. In the meeting, a decision was taken to give toll exemption for the President of the country on all the bridges, including the Padma Bridge.