BNP holds rally to create unrest: Hasan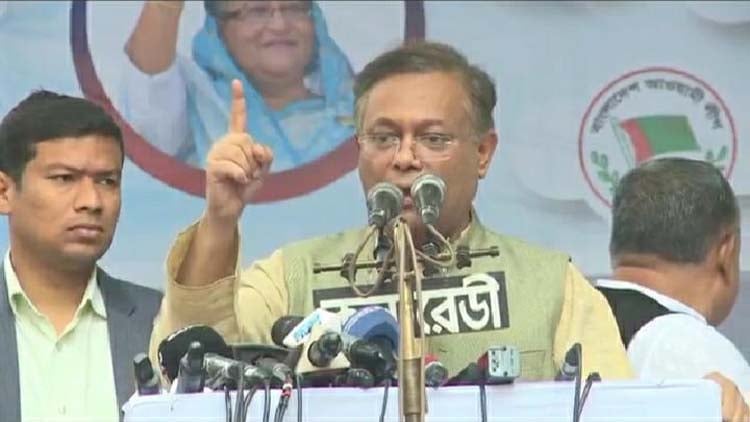 DHAKA, Jan 16, 2023 (BSS) - Information and Broadcasting Minister and Awami League (AL) Joint General Secretary Dr Hasan Mahmud today said the rallies that BNP is holding at different places aim to create unrest across the country.
"The rally that our party (AL) is holding today and the rallies that we have held in different parts of Dhaka city are peace rallies. But the rallies that BNP is holding at different places, including Naya Paltan and Press Club, are aimed at creating unrest in the country. This is the difference between our (AL) and their (BNP) gatherings," he said.
The minister made these remarks while speaking on the occasion of 'the peaceful sit-in programme protesting the terrorist activities and anarchies of BNP-Jamaat' organised by Dhaka City South AL at Bangabandhu Avenue here.
AL General Secretary and Road Transport and Bridges Minister Obaidul Quader, Presidium Members - Mofazzal Hossain Chowdhury Maya Bir Bikram, Adv Md Qamrul Islam and Dr Mostafa Jalal Mohiuddin, Joint General Secretary and Education Minister Dr Dipu Moni and Dhaka City South AL General Secretary Humayun Kabir also spoke at the programme, among others, with Dhaka City South AL President Abu Ahmed Mannafi in the chair.
Noting that BNP's ill attempts of creating turmoil and appeasing foreigners will bring no outcome, Dr Hasan said, "Our leaders and activists always remain alert. Due to our peaceful rallies a cautious position, BNP could not create unrest in Dhaka city and elsewhere in the country".
"Assistant Secretary of State of the United States during a visit in Dhaka told that the situation in Bangladesh has improved a lot and the United States wants to give training and support to the law enforcement agencies, including RAB, Police and BGB men", the minister said adding that this is the latest announcement of the USA.
"So, BNP's efforts to appease foreigners didn't bring any outcome. Today, BNP held a joint rally with 54 political parties. There were 24 people on the stage and 10 people in front of a 12 or 14 parties programme in front of the Press Club. BNP has also held rallies at some other places - there are 14 parties and not more than 100 people," Dr Hasan said.
Earlier, BNP had a 22-party alliance, now it is a 12-party alliance, he said, adding that BNP's alliance is getting smaller when there is a trend in the country that the alliance usually gets bigger.

Mentioning that BNP had said the government could not build the Padma Bridge, the AL leader said, "Now they cross the Padma Bridge secretly and going over the bridge though they speak against us".
BNP also spread propaganda against coronavirus vaccination, he said, adding later the leaders of BNP took vaccines secretly. "Though the whole of Bangladesh is happy over the launch of Metrorail, BNP is not happy. Now we are waiting to see you getting on board the metro rail," Dr Hasan said.
"I have come to know through newspapers that Mirza Fakhrul Islam Alamgir and Mirza Abbas have been admitted to hospitals. I wish their early recovery. We have kept reserve the extra dose of coronavirus for Mirza Fakhrul, Gayeshwar Babu and Mirza Abbas. They should take the extra dose if they need it.
You stay well, and oppose the government, but please don't try to create unrest in the country. The people of the country will resist you like the previous times. Please come to the election. If you do not come to the election, you will disappear like many other parties", he added.
Referring to the AL leaders and activists, Dr Hasan said, "BNP is like snakes. It will bite whenever it gets a chance. So, you should remain alert".
He urged all to take to the street and remain alert till the elections and resist those who will try to create anarchy in the country.
"We will return home only after getting the victory in the polls and making Sheikh Hasina prime minister again," Dr Hasan said.