US congratulates Turkey's Erdogan on reelection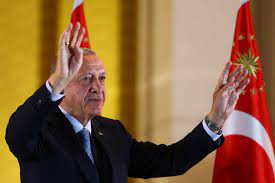 WASHINGTON, May 29, 2023 (BSS/AFP) - US President Joe Biden on Sunday congratulated Turkish President Recep Tayyip Erdogan on his reelection in a historic runoff vote.
"I look forward to continuing to work together as NATO Allies on bilateral issues and shared global challenges," Biden tweeted, making no mention of recent tensions in the bilateral relationship.
Secretary of State Antony Blinken offered his own congratulations to Erdogan on Twitter, calling Turkey "a valued @NATO Ally and partner."
"I look forward to our continued work together with the government chosen by the Turkish people," he said.
Blinken also praised Sunday's high turnout rate and the country's "long democratic tradition."
Erdogan, 69, was on track to narrowly beat 74-year-old opposition challenger Kemal Kilicdaroglu by four percentage points, near-complete vote results showed, in what was widely seen as the country's most consequential election in its 100-year history as a republic.
Kilicdaroglu pushed Erdogan into Turkey's first runoff on May 14 and narrowed the margin further in the second round.
Ties between Turkey and the United States have been tested in recent years, including over crackdowns on dissent, military operations in Syria, Erdogan's close relationship with Russian President Vladimir Putin even amid Moscow's invasion of Ukraine, and Ankara's protestations over a bid by Sweden to join the North Atlantic Treaty Organization.