Colombia rescues 5 Venezuelan migrants stranded on Caribbean island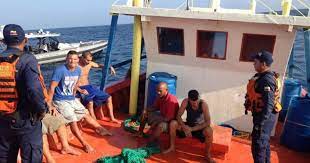 BOGOTA, March 28, 2023 (BSS/AFP) - Five Venezuelan migrants, including a pregnant woman and a minor, were rescued from a small Caribbean island after they were abandoned by human traffickers en route to the United States, the Colombian Navy said Monday.
The group departed from the San Andres archipelago, in Colombian territorial waters, and were allegedly heading some 200 kilometers west (124 miles) to the coast of Central America to continue their overland journey to the United States.
"They paid $1,200, had their belongings stolen, and were abandoned" on Cayo Albuquerque, said Colombian Navy Captain Carlos Eduardo Solano Prada, in a video posted on Twitter.
The small atoll, measuring about eight kilometers across, is located between Nicaragua and San Andres.
To avoid the rough passage on foot through the Darien Gap -- a jungle strip separating Colombia from Central America -- some migrants take clandestine boat rides from San Andres, a tourist archipelago with a commercial airport.
Colombia is the main host country for Venezuelans fleeing the collapse of the country's oil economy, with 2.5 million Venezuelans in its territory, according to official figures.
More than seven million people have fled Venezuela in recent years, according to the United Nations.