Biden in call with Netanyahu backs 'compromise' in Israeli judicial reform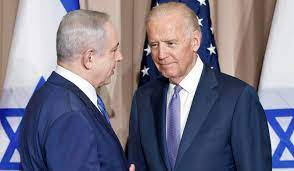 WASHINGTON, March 20, 2023 (BSS/AFP) - US President Joe Biden expressed support in a call Sunday with Prime Minister Benjamin Netanyahu for "compromise" in controversial plans for reforms to the Israeli judiciary, the White House said.
In his first comments on the issue, Biden said the reforms must respect what he called core democratic values, a statement from the White House said.
The judicial reform plans of Netanyahu's hard-right government have triggered 11 straight weeks of protests.
Protesters fear that the proposed reforms, which are already moving through parliament and would increase the power of politicians over the courts, are a threat to Israeli democracy.
The reforms would, among other things, allow lawmakers to scrap supreme court rulings with a simple majority vote.
Opponents of the package have accused Netanyahu, who is on trial on corruption charges he denies, of trying to use the reforms to quash possible judgements against him. The prime minister has rejected the accusation.
Expressing concern over the deepening rift in Israeli society, President Isaac Herzog presented a proposed compromise on Wednesday, but the government rejected it.
The White House statement said Biden told the Israeli leader that democratic principles were a "hallmark" of the US-Israeli relationship.
"The President offered support for efforts underway to forge a compromise on proposed judicial reforms consistent with those core principles," the statement said.
Biden told Netanyahu that "democratic societies are strengthened by genuine checks and balances, and that fundamental changes should be pursued with the broadest possible base of popular support."