BSKM distributes rice among 60 jobless people in Panchagarh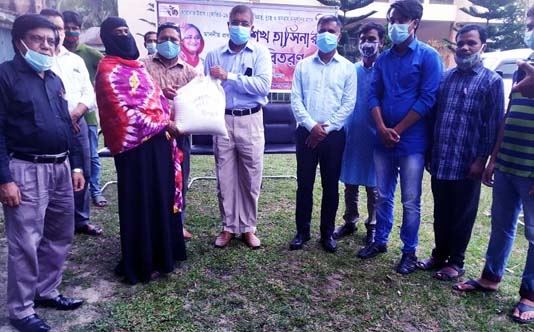 RANGPUR, Aug 2, 2021 (BSS) – Bangabandhu Shishu Kishore Mela (BSKM) distributed 10 kgs of rice among each of the 60 jobless and distressed people in Panchagarh on Sunday as humanitarian assistance.
The Panchagarh unit of BSKM distributed the rice in a function arranged strictly abiding by the health directives on Sadar upazila parishad premises in Panchagarh town to assist the jobless people in tackling the Covid-19 pandemic situation.
Additional Deputy Commissioner (General) of Panchagarh Azad Jahan distributed the rice in the function as the chief guest.
District Relief and Rehabilitation Officer Novendu Narayan Chowdhury, Sadar upazila chairman Amirul Islam, Sadar Upazila Nirbahi Officer Arif Hossain, President of Panchagarh unit of BSKM Abdul Rahim, among others, were present.
Appreciating the initiative of BSKM, the chief guest said the government is conducting massive relief activities as livelihoods of the jobless, poor, distressed and unemployed people have been affected during the lockdown amid Covid-19 pandemic.
"The government has stood beside the needy, jobless, destitute, unemployed and helpless people with humanitarian assistance of the Prime Minister to help them during the epidemic situation," he said.
He called upon affluent people and different social organisations to extend humanitarian assistance to the jobless and distressed people and stand beside them during the pandemic.
Panchagarh Sadar upazila chairman Amirul Islam called upon common people to stay homes and abide by the health directives during the lockdown to prevent further spread of the deadly coronavirus.