National Girl Child Day celebrated in Natore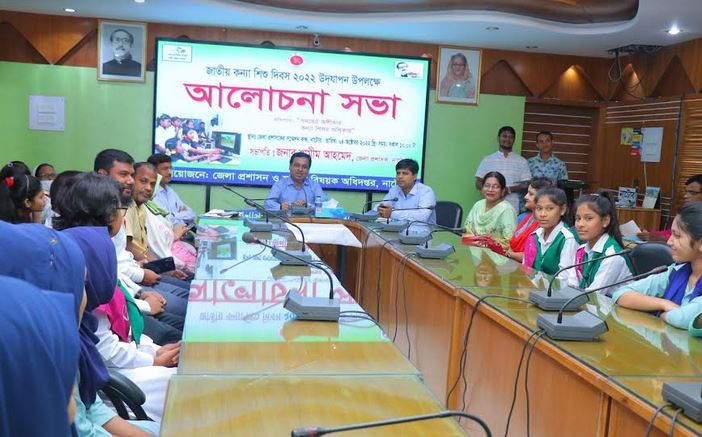 NATORE, Oct 4, 2022 (BSS) - The National Girl Child Day-2022 was celebrated in the district today across the country with a view to develop girl children as worthy citizens for building a prosperous Bangladesh.
This year's theme of the day is 'Somoyer Ongikar: Konyashishur Odhikar' (Rights of girl children: a timely pledge).
Marking the day, the District administration and Department of Women Affairs jointly organized the discussion.
Deputy Commissioner (DC) Shamim Ahmed presided over the discussion meeting in the conference room of the Deputy Commissioner office this morning.
Additional Deputy Commissioner (General) Md Nadem Sarwar, Deputy Director of Department of Agriculture Extension (DAE) Md Abdul Wadud, Deputy Director of Family Planning Department Mahfuza Khanam, Deputy Director of Women Affairs Department Sharmin Shapla, President of Natore Press Club Faraji Ahmad Rafiq Baban, among others, spoke on the occasion.
The speakers said that the present government has implemented various plans to provide protection to girl children. The girl children of the country have moved forward. They are now at the forefront of education and career.