International Day of Older Persons observed in Rajshahi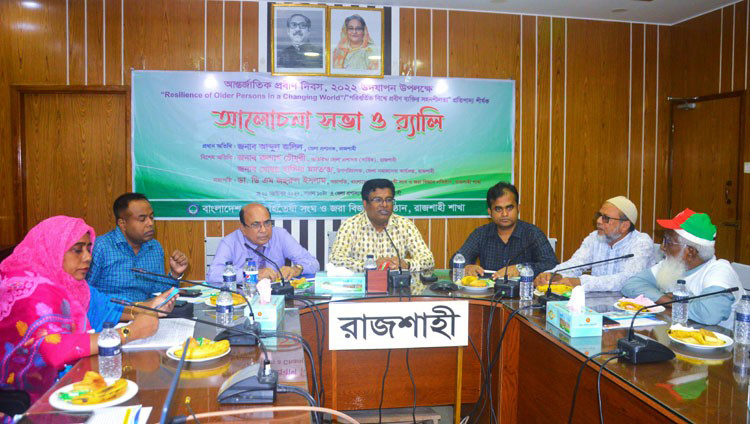 RAJSHAHI, Oct 2, 2022 (BSS) - International Day of Older Persons was observed here as providing affection and love to older people was stressed for leading their peaceful life.
Speakers also observed that the society can get benefit from the knowledge and experience the old aged people gained their lifetime.
The observation came at a discussion hosted by the old age people association held at the conference hall of Deputy Commissioner (DC) yesterday marking the International Old age People Day- 2022.
"Resilience of Older Persons in a Changing World" was the main theme of the day this year.
DC Abdul Jalil addressed the meeting as the chief guest, while president of the association Dr Zahurul Islam was in the chair.
Additional DCs Shariful Haque and Kolyan Chowdhury and Deputy Director of Department of Social Service Hasina Montaz also spoke on the occasion.
The meeting was told that schoolgirls can play a pivotal role in caring for their near and dear old people helping them lead their life peacefully and that is very important for their welfare.

By nature, girls take more care of their parents and traditionally have been contributing a lot towards ensuring congenial atmosphere everywhere in the society and the family as well for the welfare of the elderly people, the meeting observed.

Abdul Jalil stressed the need for ensuring congenial atmosphere in the society including family for the welfare of the elderly people.
Zahurul Islam viewed that many people become vulnerable when they get their old age and face multifarious problems due to various reasons.
To mitigate the odd situation, the respective family members should take the responsibility of protecting them as there is no way to discard their contribution to the field of cultural, economy and politics in the country, he said.

He also mentioned that if every son and daughter pays due respect to their parents, no aged people would face an unexpected condition.