Saradia Durga puja to be celebrated in Rajshahi tomorrow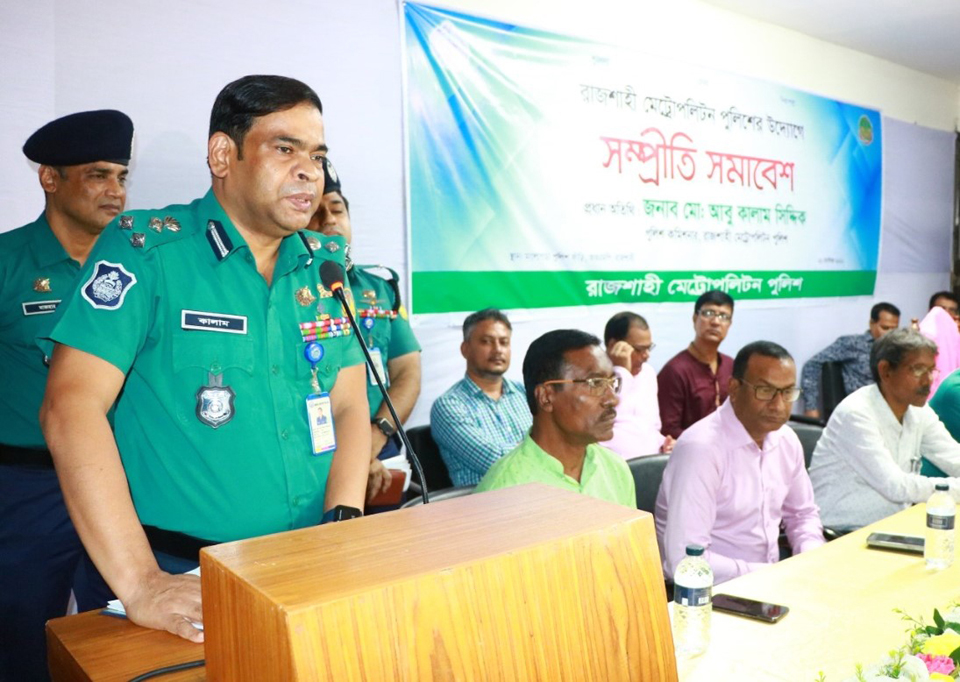 RAJSHAHI, Sept 30, 2022 (BSS) - The five-day Saradia Durga Puja, largest
religious festival of the Hindu community, will be celebrated cordially and
peacefully in the metropolis like other parts of the country from tomorrow.

Commissioner of Rajshahi Metropolitan Police (RMP) Abu Kalam Siddique came up
with the observation while addressing a harmony meeting at Malopara Police
outpost in the city yesterday evening as the chief guest ahead of the Durga
Puja.
Apart from the RMP officials, leaders and members of puja udjapon committees,
Hindu Kallyan Trust, public representatives and others concerned joined the
meeting.
He said stern legal action will be taken against those who will be found
engaged in destroying communal harmony and there will be no place for
communalism.
RMP Additional Commissioners Faruk Hossain, Bijoy Basak and Samsun Naher,
Deputy Commissioner Abdur Raquib, President of Rajshahi Chamber of Commerce
and Industries Masudur Rahman and Puja Udjapan Committee leader Shymal Kumar
Ghosh also spoke on the occasion.
Commissioner Kalam Siddique said they have already intensified intelligence
surveillance ahead of the Durga Puja throughout the metropolis.

"We are determined to celebrate the religious festival amid enthusiasm and
communal harmony," he said, adding that there will be overall security
measures and intelligence vigilance has already been enhanced across the
city.

He sought wholehearted cooperation from all quarters for successful and
peaceful celebrations of the puja.

He also asked the officer-in-charge (OC) of the police stations to keep close
coordination with the puja committee round the clock giving instructions to
the traffic division to enhance traffic management.

"We have to put in our level best efforts to ensure communal harmony for all
faiths in each of the puja mandaps," said the commissioner.
The five-day Saradiya Durgatshob will be celebrated in 95 puja mandaps in the
city from October 1 to 5 and tight security measures have been taken
centering all the mondaps.
Meanwhile, preparation for celebrating the Durga Puja is on the final touch
everywhere in the metropolis at present. People of the community are passing
their busy days with the work of decorating and painting idols and puja
mandaps.