Durga Puja to be celebrated at 578 mandaps in Pirojpur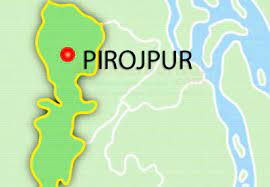 PIROJPUR, Sept 22, 2022 (BSS) - Durga Puja, the biggest religious festival of the Bangalee Hindu community, will be celebrated at 578 mandaps in the district this year.
The five-day long festival will begin on October 1 with due respect and religious fervor across the country and end on October 5 with immersion of the idols of goddess Durga and other deities.
President of the District Puja Udjapon Parishad Sukhranjan Bepari said, 66 mandaps will be erected in Sadar upazila, 132 in Nesarabad upazila, 95 in Bhandaria upazila, 122 in Nazirpur upazila, 95 in Mathbaria upazila, 39 in Kaukhali upazila and 29 in Indurkani upazila of the district.
In order to ensure overall security during the upcoming Durga Puja and the monitoring team will work at the district and upazila level on behalf of the District Puja Udjapon Parishad as well as the administration, he said.
The artisans are passing their busy time to give final touches and the work of decorating and painting the idols is going on in full swing, he added.
Deputy Commissioner (DC) Mohammad Zahidur Rahman said that the district administration will provide all kinds of cooperation to celebrate the biggest religious festival of the Hindu community in the district peaceful manner.
Superintendent of Police (SP) Mohammad Saidur Rahman said all kinds of step will be taken to celebrate the Durga Puja in a festive atmosphere and law enforcement forces will carry out their duties in a coordinated manner.
Stringent security measures have been taken for holding the festival smoothly all over the district, the SP added.
A total of 289 tonnes of rice has been allocated for celebrating the Durga Puja in the district, each mandap will get 500 kgs of rice, Pirojpur District Relief and Rehabilitation Officer (Acting) and Executive Magistrate Md. Nahid Bhuiyan said.