Medical equipment donated for corona patients in Rangpur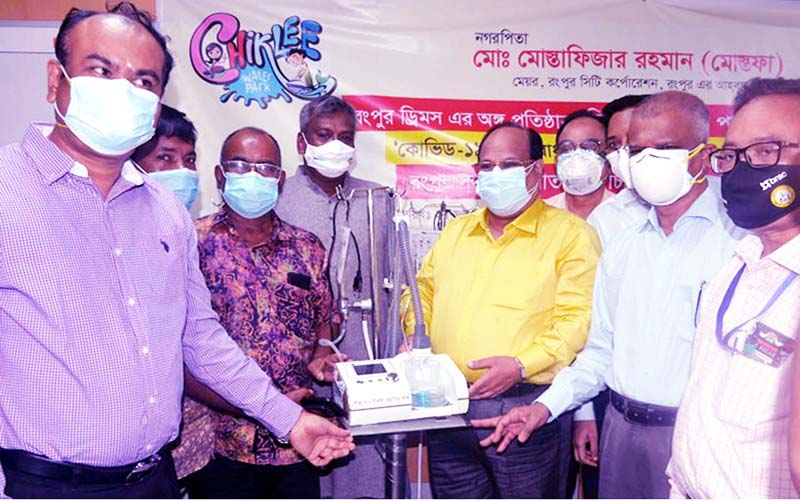 RANGPUR, July 28, 2021 (BSS) - The Chikley Water Park (CWP) authority has donated high-flow nasal cannulas and other medical equipment to the Rangpur Medical College Hospital (RpMCH) authority for treatment of Covid-19 patients in Rangpur city.
Mayor of Rangpur Mostafizar Rahman Mostafa handed over the medical equipment, machinery and supplies in a function held at the RpMCH auditorium in the city on Tuesday afternoon as the chief guest.
The RpMCH authority organised the function strictly abiding by the health directives in the wake of the Covid-19 pandemic.
Chief of Divisional Coronavirus Service and Prevention Task Force and Principal of Rangpur Medical College (RpMC) Professor Dr. AKM Nurunnobi Lyzu received four high flow nasal cannulas and other medical supplies and machinery at the function.
The medical equipment and supplies will be delivered to the authorities of RpMCH and Rangpur Dedicated Corona Isolation Hospital (DCIH) to save lives of the under-treatment corona patients at these hospitals.
Director of RpMCH Dr Rezaul Karim, Vice-principal of RpMC Professor Dr Md Mahfuzar Rahman, Rangpur Civil Surgeon Dr Herambo Kumar Roy, City Councilors Mokhlesur Rahman Taru and Haradhan Roy were present as special guests.
On the occasion, Professor Dr Lyzu thanked the CWP authority and Mayor of Rangpur for providing modern medical equipment and machinery to the RpMCH authority for coming forward to save the lives of Covid-19 patients.
He urged all concerned to play a stronger role in creating mass public awareness about the severity of Covid-19 infection to inspire common people in abiding by the health directives, wearing masks and maintaining physical distance.
Dr Lyzu also urged the affluent people to come forward and donate emergency medical equipment and machinery to the health department for ensuring health services of the Covid-19 patients at different corona hospitals in Rangpur.