'Adopt ribbon retting for rotting jute plants amid water scarcity'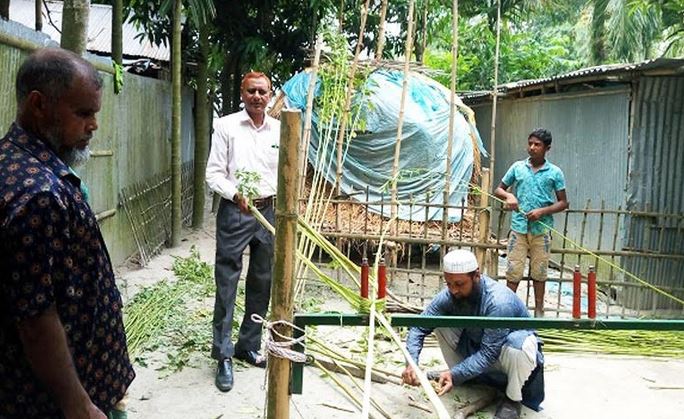 RANGPUR, Aug 18, 2022 (BSS) - Experts at a technology demonstration function
have stressed on adopting the lowest-cost ribbon retting method in rotting
jute plants amid water scarcity to get upgraded quality of the fibre with
increased yield rate.
They viewed this in the event arranged by the Directorate of Jute with
assistance of the Department of Agricultural Extension for extension of the
ribbon retting technology at farmers' levels on Wednesday at village Pakuria
Sharif in Gangachara upazila of the district.
Gangachara Upazila Jute Development Officer Agriculturist Md Rezaul Karim
presided over the function participated by over 100 jute farmers of local
Barobeel union in the upazila.

Assistant Director of the Directorate of Jute for Rangpur Agriculturist Md
Solaiman Ali demonstrated the ribbon retting technology evolved by Bangladesh
Jute Research Institute (BJRI) in the function as the resource person.
Agriculturist Rezaul Karim narrated the lowest cost ribbon retting technology
that helps farmers rotting jute plants easily and everywhere despite water
scarcity during droughts or drought-like situations.
He urged farmers to adopt the easiest technology which might be crucial in
the future due to continuous adverse impacts of global climate change badly
affecting the agriculture sector and creating water scarcity frequently for
rotting jute plants.
While demonstrating the ribbon retting technology, Agriculturist Md Solaiman
Ali provided practical knowledge to farmers for separating jute fibre from
jute plants and rotting those easily adopting the technology at their
homesteads.
He narrated tremendous benefits of the lowest-cost ribbon retting technology
in overcoming drought-like situation and water scarcity for rotting jute
plants to get the best quality fibre with maximum yield and market prices.
"The increasing multidimensional use of jute products continues enhancing
jute demand faster in global markets due to adverse effects of synthetic
fibre on the environment ushering a new hope for revival past glory of the
country's golden fibre," he said.