'Bangamata was idol of courage, inspiration, sacrifice to Bangabandhu'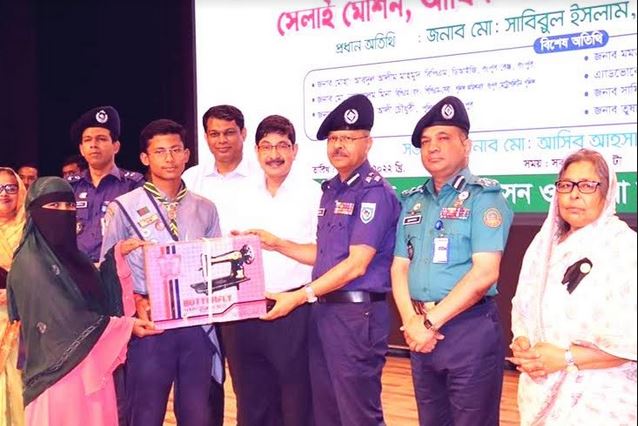 RANGPUR, Aug 8, 2022 (BSS) – Bangamata Sheikh Fazilatunnessa Mujib was an unparalleled idol of courage, inspiration and sacrifice to Father of the Nation Bangabandhu Sheikh Mujibur Rahman and constantly encouraged him not to get upset during his long uneven struggle for independence.

High officials and leaders of Awami League (AL) and its associate bodies said this today at the main discussion arranged at local Shilpokola Academy auditorium here to celebrate the 92nd birth anniversary of Bangamata.

The district administration jointly with the Department of Women Affairs organized the discussion followed by distribution of sewing machines and cheques among the distressed women as grants to make them self-reliant.

Newly appointed Divisional Commissioner of Rangpur Division Md. Sabirul Islam attended the discussion and function as chief guest with Deputy Commissioner of Rangpur Md Asib Ahsan in the chair.

Deputy Director of the DWA for Rangpur Kawsar Pervin moderated both the functions.

Deputy Inspector General of Police, Rangpur Range, Mohd Abdul Alim Mahmud, Rangpur Metropolitan Police Commissioner Nure Alam Mina, Superintendent of Police Md Ferdous Ali Chowdhury, District Council Administrator Advocate Chhafia Khanom, President of district AL Mamtaz Uddin Ahmed, Chairman of Rangpur unit of Bangladesh Jatiya Mohila Sangstha Rosy Rahman addressed the functions as special guests.

The speakers focused on the life, works and sacrifice of Bangamata and said that she appropriately suggested Bangabandhu during the crucial times of his struggling political career on the way to ultimately achieve national independence.

The chief guest said the nation would always remember Bangamata for her unparalleled sacrifice during the long rough and tough political life of the Father of the Nation Bangabandhu Sheikh Mujibur Rahman.
Later, the chief guest with other guests distributed sewing machines among 90 trained distressed women and cheques of Taka 18 lakhs among 61 distressed women marking the occasion.

Meanwhile, the district unit of Mohila Awami League celebrated the 92nd birth anniversary of Bangamata through various programmes at its office here.

The programmes included placing of wreaths at the portraits of Bangabandhu and Bangamata and doa mehfil followed by offering special munajat and discussion.

Presided over by President of district Mohila Awami League Mortuza Mansur, its General Secretary Advocate Jakia Sultana Choity moderated the discussion.

President of district AL Mamtaz Uddin Ahmed, its Senior Vice-president Advocate Elias Ahmed and General Secretary Advocate Rezaul Karim Razu, other leaders of the district and city units of AL and its associate bodies addressed the discussion.

Similarly, the city unit of AL chalked out identical programmes at its office to celebrate the 92nd birth anniversary of Bangamata.

President of city AL Shafiur Rahman Shafi presided over the events, which was moderated by its General Secretary Tushar Kanti Mandal.