92nd birth anniversary of Bangamata observed in Mymensingh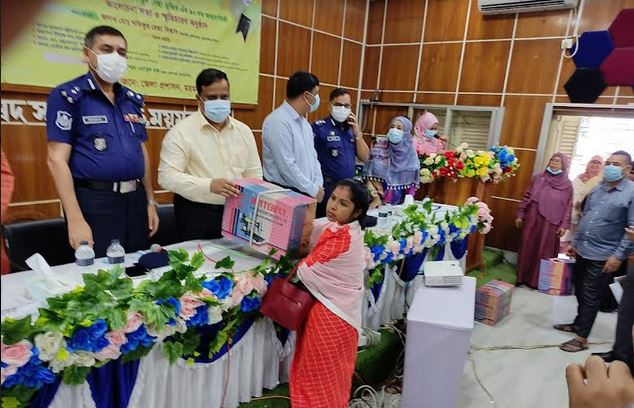 MYMENSINGH August 8, 2022 (BSS) - The 92nd birth anniversary of Bangamata Begum Fazilatunnesa Mujib was observed here today in a befitting manner.
Marking the day, the district administration took various programmes. District Awami League also took separate programe in observance the day.
On this occasion, a discussion on the life and works of Bangamata Begum Fazilatunnesa, was held at Language Martyred Abdul Jabber Auditorium with Deputy Commissioner (DC) Md. Enamul Haque in the chair.
Divisional Commissioner of Mymensingh Shafiqur Reza Biswas was present as chief guest while Deputy Inspector General (DIG) of Police Deb Das Bhattacharya, Police Super Ahamaruzzaman, Administrator of Zila Parisad Yusuf Khan Pathan, Secretary District Awami League Advocate Muazzem Hossen, spokes on the occasion as special guests.
Deputy Director of District Women Affairs Ferdushe Begum gave welcome speech and narrated the objectives of the discussion.
The speakers discussed elaborately on various aspects of the life, works and contributions of Bangamata and urged all to follow her ideals for the welfare of the country as well as for the women community.
They also said, Bangamata inspired Father of the Nation Bangabandhu Sheikh Mujibur Rahman in all democratic movements, Liberation War, six points demand, non cooperation movement and her unique role in order to rehabilate the oppressed women and welfare of the distressed women.
After the discussion, 35 sewing machines were handed over to the selected distressed women. A documentary film was screening on the occasion at the same venue.
Besides, a life based video 'Chira' displayed at Krisnachora Chatter, Town Hall Corner, Notun bazar, China mor and Charpara mor in the city area.
Marking the Day, District Awami League organised a special doa mahfil at 10 am at the town hall premises. Besides, district Chhatra League placed floral wreath at the portrait of Bangamata Begum Fazilatunnesa Mujib at the Town Hall premises marking the Day.