Sacrificial animals coming at Khulna markets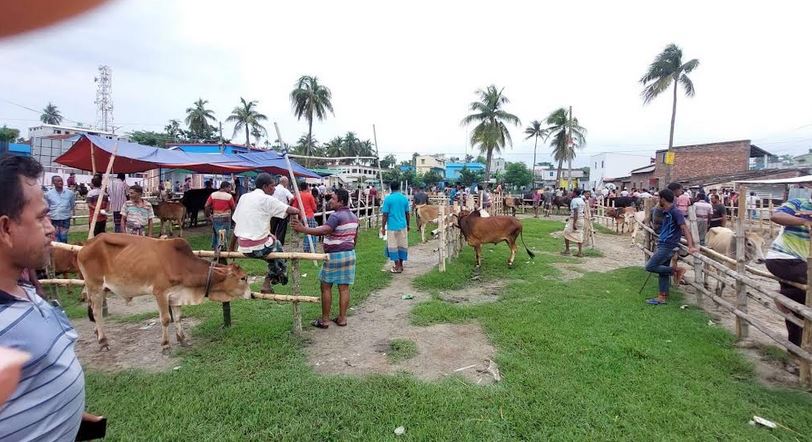 KHULNA, July 6, 2022 (BSS) – With three days left for Eid-ul-Azha, the sacrificial animals are being brought to 154 cattle markets in all 59 upazilas and Khulna City Corporation (KCC) in the division.
The cattle traders and market leaseholders are now passing very busy times.
Meanwhile, people, especially service holders, are preparing themselves to buy cattle after getting the monthly salary as well as Eid bonus.
Livestock Office sources said the demand for sacrificial animals in 10 districts under the Khulna division is around 8.57 lakh this year. Till now, 13 lakh 99 thousand and 821 cattle-heads are in stock in local farms and houses. Every year, the livestock office fixes possible demand through considering five percent increasing animals.
The demand for sacrificial animals in Khulna this Eid-ul-Azha could be met almost entirely with locally-reared livestock.
Even 50 percent of the division's demand could not be fulfilled with local livestock before, but over the last five years, the situation has changed and now hundred percent of the demand can be met with local stock, said Dr. Sukhendu Shekhar Gayen, director of Khulna divisional Livestock Office.
"This became possible after farmers started rearing cattle in large scale in the region as they found it profitable," he said, adding that at least 5.45 lakh cattle will be sent outside after meeting the demand of Khulna division.
Some days remain for the Eid-ul-Azha, the second largest religious festival of the Muslim community, the cattle will be ready for sacrifice within this time, the official said.
According to the Livestock Office, the demand for sacrificial animals in Khulna division this year stands at 8, 57,601 while the farmers of the division reared 13, 99,821 sacrificial animals, 38 percent more than the demand, targeting the holy Eid.
This year, 4, 02,553 cows have been reared while 5,916 buffaloes, 9, 55,303 goats and 36,038 sheep and other animals have been reared in the division.