Ratha Yatra celebrated in Rajshahi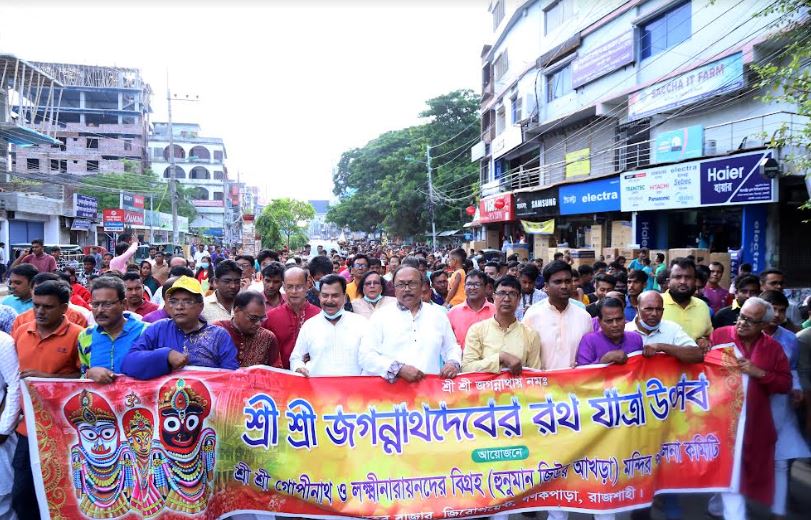 RAJSHAHI, July 1, 2022 (BSS) - Members of the Hindu community celebrated
their major religious festivals - Ratha Yatra- with due religious fervour and
festivity here today.
Thousands of Hindu devotees gathered at selected places and joined with full
enthusiasm the ritual of pulling chariots to celebrate the occasion.
Old and young, male and female, boys and girls together joined the ritual
amidst much fanfare.
The main Ratha Yatra programme in the metropolis was organised in Alupatty
area while in the district in Khetur Gourangabari area under Godagari
upazila.
The main journey of Jagannath Dev was brought out from rathbari to the city's
Alupatty crossing Friday afternoon, which paraded several city streets with a
festive mode.
Rajshahi Mayor AHM Khairuzzaman Liton, Bagmara Upazila Chairman Anil Kumar
Sarker and Members of Hindu Buddhist Welfare Trust joined the rally.
Thousands of Hindu community members including female and children joined in
pulling the raths (chariot) by long ropes through various city streets.
The participants attired in traditional Hindu costumes beat drums and played
other musical instruments and walked along the streets.
A large number of onlookers' of various creeds and cast were seen witnessing
the colourful Ratha Yatra on both sides of the road.
As part of the festival, a huge 'Rather Mela' is also being held on the
three-kilometer Kalpona hall crossing to Seroil bus terminal with the
participation of a large number of shops displaying various traditional and
handicraft items like furniture, handicrafts, toys and sweetmeat.
A huge crowd was seen thronging the fair throughout the day.
Hundreds of devotees from different parts of the district as well as from
neighboring areas assembled here to observe the century-old Ratha Yatra
festival of Hindu community.
Members of different law enforcement agencies tightened up security measures
averting any untoward incident for the sake of ensuring communal harmony on
the occasion.