Call for applying modern techniques to boost mango production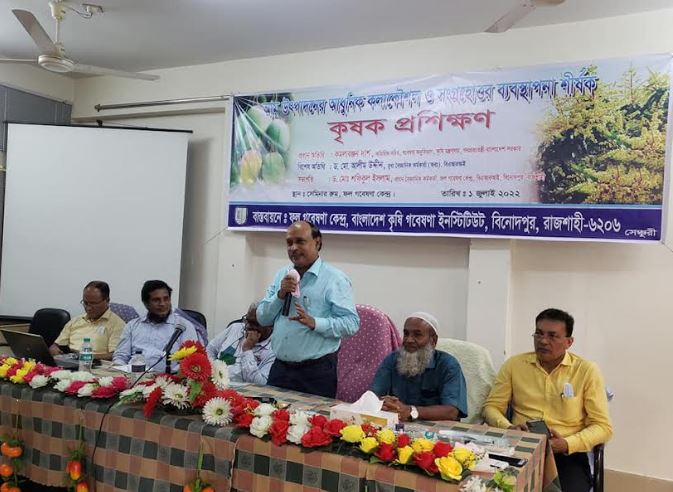 RAJSHAHI, July 1, 2022 (BSS) - Using modern farming technologies and
techniques and practicing post-harvest management can be the best way of
maximizing the immense potentiality of mango production in the region,
including its vast barind tract.

Utmost importance should be given on bringing the growers under need-based
training and knowledge sharing on using modern techniques and post-harvest
management so that they could be benefited more.

Scientists and researchers came up with the observation while addressing a
daylong farmers training titled "Modern Techniques and Post-harvest
Management in Mango Production" in the city today.

Fruit Research Station (FRS) of Bangladesh Agriculture Research Institute
(BARI) organised the training at its conference room discussing and devising
ways and means on how to disseminate and reach modern mango farming
techniques among the grassroots farmers.

Additional Secretary of the Ministry of Agriculture Komolaranjan Das
addressed the opening ceremony as the chief guest while Director General of
Bangladesh Sugar Crop Research Institute Dr Amzad Hossain and former Chief
Scientific Officer of FRS Dr Alim Uddin spoke as special guests.

With FRS Principal Scientific Officer Dr Shafiqul Islam in the chair,
Principal Scientific Officers of On-Farm Research Division of BARI Dr Saidur
Rahman and Dr Jagadish Chandra Barman also addressed the session,
disseminating their expertise on the issue.

Komolaranjan Das mentioned that the field-level fruit researchers and
scientists should discharge their duties with highest sincerity and honesty
for disseminating the information about the modern methods and technologies
to the farmers.

He said large-scale promotion of bio-rational pest management in mango
farming has become crucial for boosting the mango production side by side
with reducing usages of toxic chemical pesticides and different insects and
pests in the delicious fruit cultivation of the region.

Mr Das urged the attending farmers to follow the guidelines of the field-
level agricultural officials and scientists during mango farming.

He said using chemical pesticides on farm lands is always harmful to soil and
public health, crops and environment, adding: "So, it is urgent for promoting
bio-rational pest management widely."

Dr Alim Uddin said BARI has developed a number of bio-rational-based
integrated pest management technologies and has been reaching those to
farmers level through various training and motivational programmes.

There is no alternative to bring all the mango farmers under requisite
awareness for promotion of modern technologies to make the mango harvesting
and marketing process safe and hygienic.

He said modern technologies need to be promoted commercially in mango
orchards in Rajshahi and Chapainawabganj districts during the coming pre-
harvest season to protect mango from pest attack besides facilitating the
farmers to get quality and better yield.

Mango is the leading seasonal cash crop of the country's northwest region and
it dominates the economy in the two districts which were famous for the
delicious fruit.

Around 40 mango farmers in the district joined the training.