Public consciousness to ensure communal harmony stressed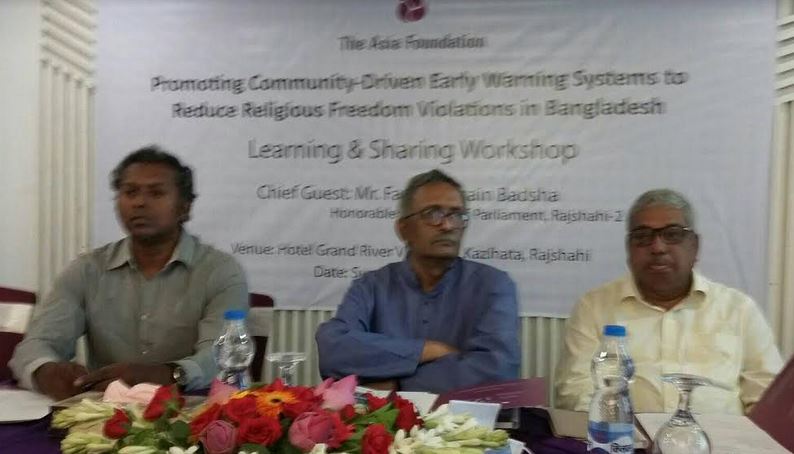 RAJSHAHI, June 26, 2022 (BSS) - Consciousness generation among the public in-general about the aspects of co-existence of people of all faiths can be the best way of ensuring communal harmony everywhere in the society.
The present government under the dynamic and visionary leadership of Prime Minister Sheikh Hasina has been working relentlessly for taking the country forward successfully with support of people of all faiths.
So, all quarters should come forward and work together so that the public in general can live with peace and tranquility as a whole.
Political leaders, experts and other stakeholders, including religious leaders from all faiths and academics, made the observation while addressing a learning and sharing workshop on the issue here today.
The Asia Foundation (TAF) hosted the workshop under its 'Promoting Community Driven Early Warning System to Reduce Religious Freedom Violence in Bangladesh' project at Grand Riverview Hotel.
Fazley Hossain Badsha, MP, addressed the programme as chief guest, while Superintendent of Police Masud Hossain and Trustee of Hindu, Buddhist and Christians Trust Tapan Kumar Sen spoke as focal persons with TAF Director Sadat Sadruddin Shibli in the chair.
Senior Project Officer Mahmuda Sultana gave an illustration of the project along with its aims, objectives and implementation along with its so far achievements during her keynote presentation.
She said the project is intended to increase tolerance and promote religious freedom side by side with promoting community involvement in maintaining peace through a network of volunteers.
The project has been working for reducing violations of religious freedom through the creation of an Early Warning Systems effort in six upazilas in Rajshahi district.
In his remarks, Lawmaker Badsha said concerted efforts of religious leaders from all faiths and frequent interfaith dialogue can be the effective means of ensuring peace and tranquility everywhere in the society.
Utmost emphasis should be given on improving community capacity to track and report cases that might hinder peace and harmony besides raising awareness and support for religious freedom among community leaders and members.

Badsha also said, interfaith dialogues and intensified efforts are very important to combat terrorism and extremism coupled with freeing the society from all sorts of social crimes.
Around 250 people consisting of police officials, social watchdogs, development activists, religious leaders of all faiths, political and business leaders and others concerned joined the meeting.