'Govt puts maximum priority to social safety net programs'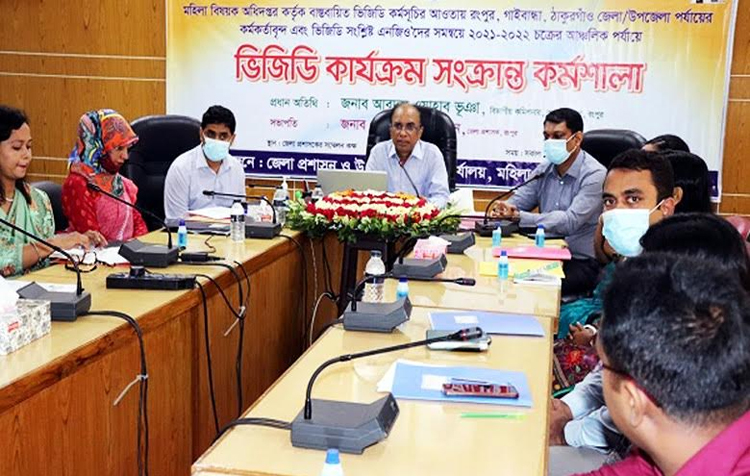 RANGPUR, June 23, 2022 (BSS) - The government puts maximum priority to social
safety net programs, successful implementation of which has improved the
socioeconomic condition of the poor taking the world by surprise.

Divisional Commissioner Md. Abdul Wahhab Bhuiyan made the observation at a
daylong workshop on VGD activities held at the conference room of the Deputy
Commissioner here on Wednesday as the chief guest.
Rangpur Deputy Commissioner Md. Asib Ahsan presided over the workshop
jointly organized by the district administration and office of the Deputy
Director of the Department of Rangpur District Women Affairs Office.
Deputy Director of the Department of Women Affairs for Rangpur Kawser Pervin
delivered a welcome speech narrating goals and objectives of the workshop.
The district and upazila level government and NGO officials of Rangpur,
Gaibandha and Thakurgaon districts involved in implementation of the
Vulnerable Group Feeding (VGD) program participated in the event.
The Divisional Commissioner said the success of the social safety net
programs in Bangladesh has brought distressed women into the mainstream of
society by engaging in self-employment and raising savings making them more
confident.
The Ministry of Women and Children Affairs is implementing the programs,
providing foods, training on health and nutrition awareness, sustainable
quality of life and income generating activities to improve their livelihoods
and ensure social security.
"The safety net programs have been expanded to achieve the sustainable
development goals (SDGs) by 2030," he said, adding that all sorts of lack of
coordination, overlapping and gaps must be removed for smooth implementation
of the programs.
Social safety net programs are playing an important role in alleviating
poverty and there is no alternative to come out from any weakness related to
beneficiary selection to protect the interests of the poor, distressed and
underprivileged people.
He directed the field level officials involved in implementing the social
safety net programs, including VGD, ensuring cent percent accountability and
transparency to get the highest benefits.