'Ansar-VDP ensuring security, socio-economic development'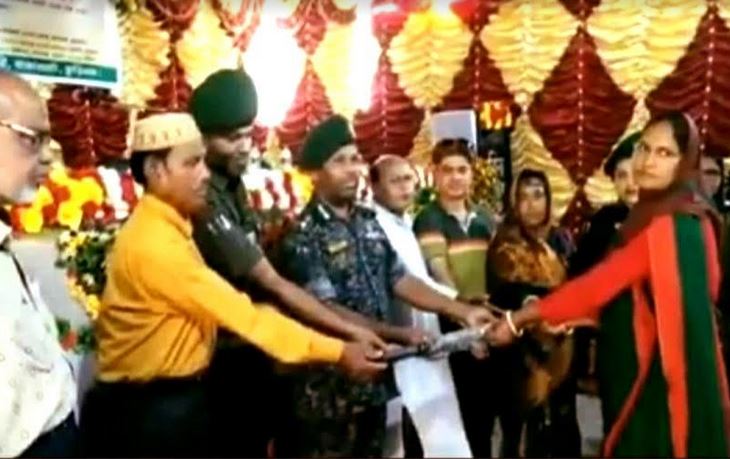 RANGPUR, May 24, 2022 (BSS) - Members of Ansar and Village Defense Party (VDP) are working as supporting forces to ensure public security alongside accelerating socioeconomic development in rural areas.
Rangpur Range Director of Ansar-VDP Md. Abdus Samad said this in the Upazila Conference-2022 of the organization at Mir Ismail Hossain Government College auditorium in Rajarhat upazila town of Kurigram on Monday as the chief guest, a press release said today.
Kurigram District Ansar-VDP Commandant (Current-charge) Md. Ibnul Haque presided over the conference. Rajarhat Upazila Ansar-VDP Trainer Md. Ziaur Rahman moderated the conference while Upazila Ansar-VDP Officer Jasmine Nahar delivered a welcome address.
Vice-principal of the college ATM Md. Sajedur Rahman Chand, Officer-in-Charge (Investigation) of Rajarhat police station Pabitra Kumar, union level team leaders of Ansar-VDP Azizul Haque and Feroza Begum addressed the conference. Rajarhat Upazila Female Vice-chairman Yasmin Begum Fatema, heroic freedom fighter Aminur Rahman, local elite, government officials, union Ansar Commanders, male and female VDP team leaders, members of the organization were present.
The chief guest narrated the glorious history of the well-organized and disciplined volunteer organization that has been working with dedication in remote areas with its trained members for building a developed digital Bangladesh. "Members of Ansar-VDP are changing the socioeconomic condition of rural people side by side with their efforts of becoming self-reliant through income generating activities utilizing their knowledge and skill earned from training," he said.
He called upon the Ansar-VDP members to engage their continuous efforts for eradicating child marriage, dowry, drug abuse and ensuring women education and empowerment, building planned and happy families in rural areas. He suggested every member of the organisation to contribute maximum in implementing the social development movement in rural areas through working with utmost dedication in building a developed Bangladesh by 2041 next.
Later, he distributed prizes like bicycles, umbrellas and other awards among the male and female Ansar-VDP members for their excellence in performing professional responsibilities.