International Day of End Obstetric Fistula observed in Rangpur division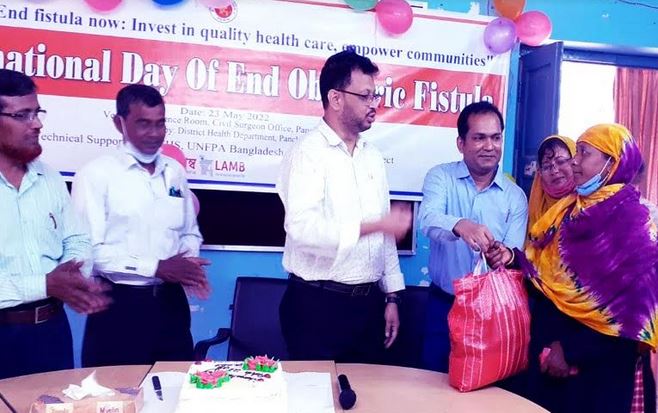 RANGPUR, May 23, 2022 (BSS) -The International Day of End Obstetric Fistula-2022 was observed in Rangpur division today with a call for identifying obstetric fistula patients to bring them under cost-free treatment facilities.

The day was observed with the theme 'End fistula now: Invest in quality health care, empower communities' in Panchagarh Sadar, Parbatipur Upazila in Dinajpur, Gobindaganj upazila in Gaibandha and Hatibandha upazila in Lalmonirhat of the division.

LAMB, a hospital run by foreign donors, observed the day under the UNFPA Bangladesh funded Elimination of Genital Fistula by Capturing, Treating, Rehabilitating and Reintegrating in Bangladesh project with technical assistance of the Directorate General of Health Services.

In Panchagarh, Civil Surgeon Dr Md Rafikul Hasan led a rally with participation of health officials, employees, people's representative, rehabilitated fistula patients and civil society members.

Later, he cut a cake, distributed support to rehabilitated fistula patients and addressed a discussion arranged by the District Health Department at the Civil Surgeon's office.

In Parbatipur upazila town, LAMB FRRei project and Training Center brought out a rally followed by a discussion held at LAMB Hospital premises.

Fistula Surgeon Dr Hafiza Khatun and its Director (Operations) Swapan Pahan addressed the discussion.

The Hatibandha Upazila Health Department organized a rally followed by a discussion at Hatibandha Upazila Health Complex in Lalmonirhat.

Besides, a rally was brought out followed by a discussion held at Sapmara Union Parishad premises in Gobindaganj upazila of Gaibandha.

With Sapmara Union Chairman Shakil Hossain Bulbul in the chair, Gobindaganj Upazila Health and Family Planning Officer Dr Jafrin Ahmed Jiti, Dr Armina Khatun and Acting Project Manager of the FRRei project of LAMB Hospital Mahatab Liton addressed the discussion.

The speakers discussed the causes behind the intolerable but preventable disease, available cost-free treatment facilities and ongoing activities for rehabilitation of obstetric fistula patients in Rangpur and Rajshahi divisions.

They discussed the services being provided to fistula patients by LAMB Hospital, different medical college hospitals, district and upazila level hospitals, union level health service providing facilities in identifying and referral of fistula patients for treatments.

Dr Hafiza Khatun stressed on eliminating obstetric fistula, a devastating injury in which an abnormal opening forms between a woman's bladder and vagina, resulting in urinary incontinence, chronic health complexities, depression and social isolation.

Dr Rafikul Hasan put emphasis on creating social awareness to stop child marriage, child pregnancy and ensure safe instructional deliveries of pregnant mothers and quality and safe surgeries to eliminate obstetric fistula.