Collaborative efforts to ensure maternal, child healthcare stressed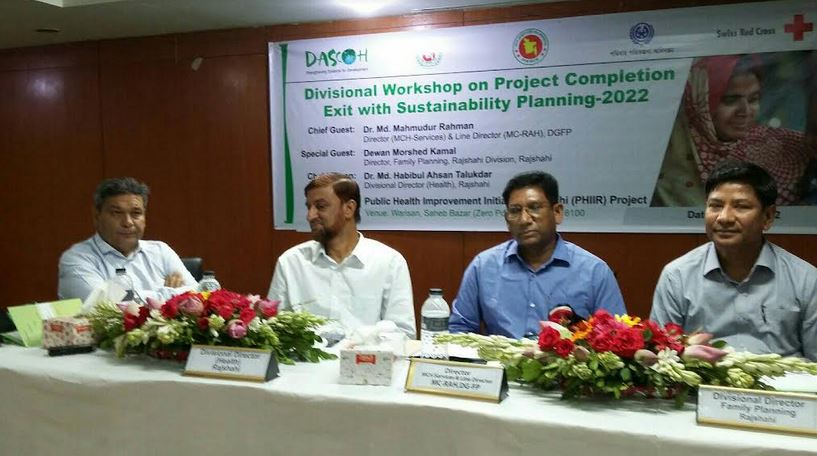 RAJSHAHI, May 23, 2022 (BSS) - Collaborative efforts of all the government and non-government organizations concerned and local government institutions is very effective towards ensuring maternal and neonatal healthcare services to the grassroots people.
Many of the rural mothers, particularly marginalized and underprivileged ones, are dependent on the rural health facilities, including upazila health complex, union health and family welfare centre, union sub-centre and community clinic, for their emergency services.
So, there is no way but proper functioning of the facilities to meet up the demands related to antenatal care, postnatal care and neonatal care collectively.
Health experts, development activists and public representatives came up with the observation while addressing the Divisional Workshop on Project Completion Exit with Sustainability Planning-2022 here today.
On behalf of its Public Health Improvement Initiative in Rajshahi (PHIIR) Project, DASCOH Foundation organized the workshop at Hotel Warisan supported by Swiss Red Cross (SRC).
The project is being implemented in five upazila health complexes, 27 Union Health and Family Welfare Centres, 15 USC and 110 Community Clinics under Bagmara, Charghat and Tanore upazilas in Rajshahi and Porsha and Sapahar in Naogaon.

It is intended to improve the health status of the targeted population with a special focus on maternal, neonatal and child health at primary health care centres.
Line Director of the Department of Family Planning Dr Mahmudur Rahman addressed the meeting as chief guest, while Divisional Director Dewan Morshed Kamal and SRC Country Representative Amitabh Sharma spoke as special guests with Divisional Director of the Department of Health Dr Habibul Ahsan Talukdar in the chair.
Chief Executive Officer of DASCOH Foundation Akramul Haque welcomed the participants.
SRC Health Manager Dr Dhiman Dutt and PHIIR Project Manager Tozammel Haque gave an overview of the project along with its activities and so far achievements during their multimedia presentation.
They told the meeting that 41 out of 42 union health and family welfare centres are now fully functioning since reactivation of those.
Around 40 people, including the district and upazila level officials of the departments of health and family planning, public representatives and other stakeholders from the project covering areas joined the workshop.
Taking part in open discussion, the participants discussed and devised ways and means on how to continue the best practices attained with intervention of the project after its exit in September this year.