Delivering land-related services ensuring transparency stressed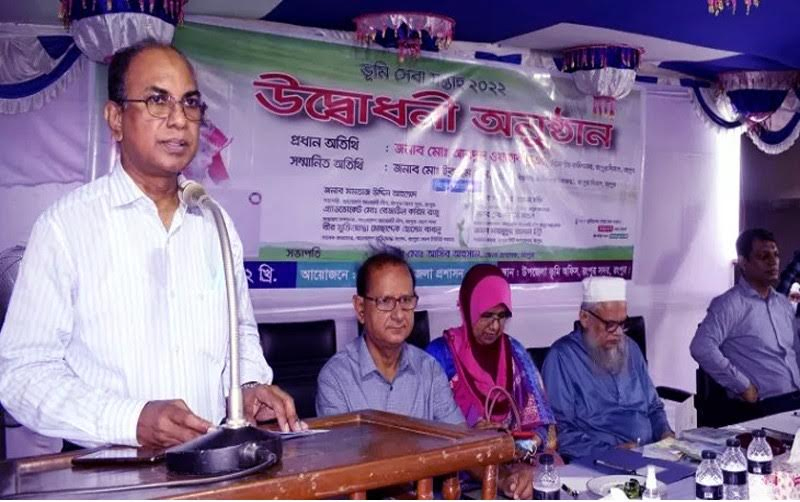 RANGPUR, May 22, 2022 (BSS) - Government officials at a discussion today
called upon officials and employees concerned to deliver land-related
services to people in a hassle-free manner ensuring complete transparency.
They made the call at the discussion arranged at the Sadar Upazila Land
Office auditorium on the inaugural day of observance of the Land Service
Week-2022 in the district.
Divisional Commissioner Md Abdul Wahhab Bhuiyan formally inaugurated the
observance of the week by releasing balloons and attending the discussion as
the chief guest.
Officials and employees of different government departments and offices,
land-related service providers and civil society members were present.
Presided over by Deputy Commissioner Md Asib Ahsan, Additional Divisional
Commissioner (Revenue) Md Ibrahim Khan, Additional Deputy Commissioner
(Revenue) Raihan Kabir, Sadar Upazila Nirbahi Officer Nur Nahar Begum,
General Secretary of city Awami League Tushar Kanti Mondal and Rangpur Press
Club President Mahabub Rahman addressed the discussion as special guests.
The speakers said people are getting land-related digitized services like e-
mutation, paying land development taxes, submitting applications for Khas
land and reviewing petitions of different land related cases and getting
instant disposals of the prayers in a hassle free manner.
They suggested land-related service providers to become skilled enough to
eliminate all sorts of corruption and red-tape complexities through
delivering land-related services to people adopting the digitised e-
management systems.
The chief guest said the government is strict against corruption with zero
tolerance and none would be spared if found committing corruption in the
process of providing land-related services.

"The district and upazila administrations are totally committed to reach land
related services to people's doorsteps in the process of building a developed
Bangladesh by 2041 next," he said.