Land service week begins in Khulna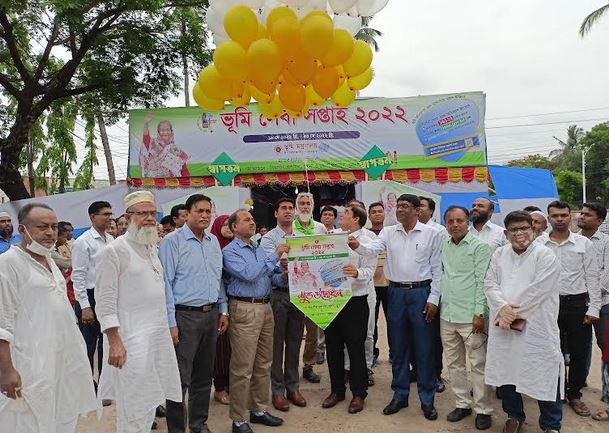 KHULNA, May 22, 2022 (BSS)–The week-long land service inaugural ceremony and press breifing was held at the circuit house conference room in the city today.
Aiming to give digital land service at the people doorsteps, Khulna Divisional Commissioner and District Administration officials jointly organised the event with Deputy Commissioner Md MoniruzzamanTalukder in the chair.
Khulna Divisional Commissioner Md Ismail Hossain inaugurated the event and addressed the press briefing as chief guest while Joint Secretary of the Land Ministry Mahmud Hasan, Additional Divisional Commissioner (Rev) Shahidul Islam, President of Khulna Press Club S M Nazrul Islam, former president of Khulna Press Club SM Zahid Hossain and Khulna Journalists Union(KUJ) General Secretary Asaduzzaman Reaz, among others, addressed.
The chief guest said that the people are now getting benefit from digital land service.
Terming government officials in grass root level have been working for the welbeing of the common people, he said, adding that people are now giving land development tax through digital system without harassment and giving bribe.
The Land service week will continue at the collectorate building premises alongside all land office premises in the upazila where land service seekers will pay land tax and other goverment revenue throgh online after registration.
People will also get more services during the campaign at the land office premises including check receiving from mitigated land requsition. The services include E-Namjari, Certified Copies of Khatian, Parcha and other land related services.
Later, the chief guest distributed e-parcha, e-mutition and Land accusition checks among the people.