Govt works relentlessly to reach land services to people doorsteps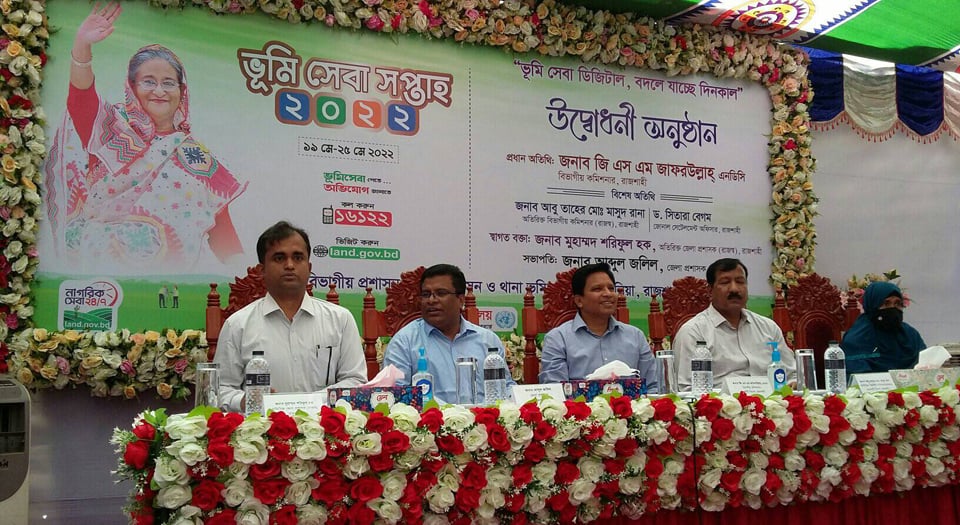 RAJSHAHI, May 22, 2022 (BSS)- Present government has been working relentlessly to reach the land services to the peoples doorsteps through digitizing those for welfare of the public in general.
The government under the prudent and dynamic leadership of Prime Minister Sheikh Hasina has attained significant success in this field reducing public suffering and harassment to a greater extent.
Administrative officials came up with the observation while addressing the inaugural ceremony of the Land Service Week- 2022 here today.
Divisional and district administrations and Thana Land Office jointly hosted the ceremony at Boalia Thana Land Office premises largely attended by land administrative officials, staff and other stakeholders.
Commissioner of Rajshahi division GSM Zafarullah addressed the meeting as chief guest, while Additional Commissioner Abu Taher Masud Rana and Zonal Settlement Officer Dr Sitara Begum spoke as special guests with Deputy Commissioner Abdul Jalil in the chair.
Additional Deputy Commissioner Shariful Haque gave an illustration about the land service week during his documentary presentation related to the benefits of land automation and digitalization.
Commissioner Zafarullah told the meeting that the people are getting land records easily as a result of record room automation. Hundred percent land mutation online is in process at present, he said, adding that a project for digital land survey is being implemented in Rajshahi through collecting three dimensional satellite images.
There will be no need for manual land survey upon successful implementation of digital land survey. Khatian and the map will be prepared automatically in terms of ownership transfer. The venture will save the public from the long-lasting harassment. The chief guest urged his subordinate colleagues to discharge their services with utmost sincerity and honesty so that the service-recipients are highly satisfied.
He called for ensuring people-friendly land services after the best use of modern information communication and technologies. Building close and cordial relations between the staff of land offices and the public in general is the precondition to make the land services pro-people.
On the occasion, some officials and staff were given awards as recognition for their laudable services and performance in this field.