187 imam, muazzin get Taka 10 lakh grants in Rajshahi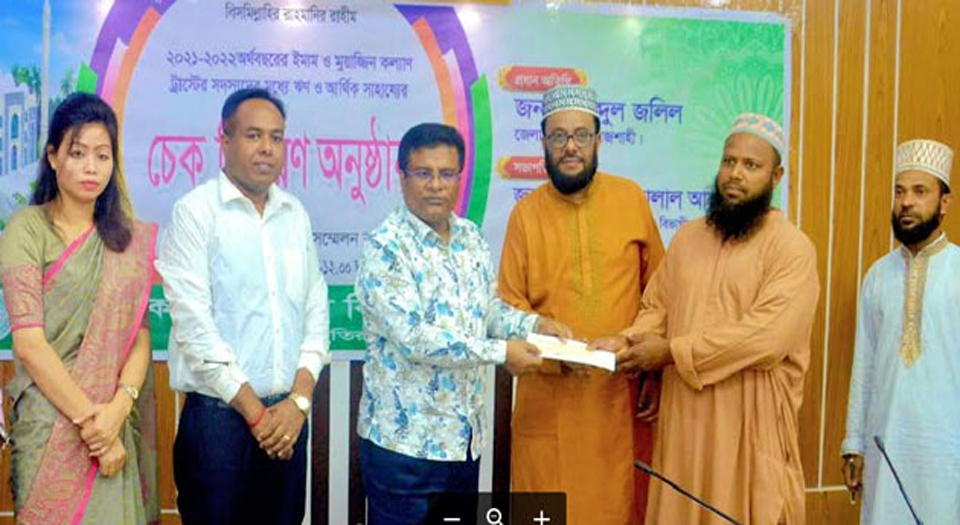 RAJSHAHI, May 22, 2022 (BSS) - A total of 187 members received financial grants and interest-free loans worth Taka 10 lakh through their imam and muazzin welfare trust for improving their living and livelihood conditions.
The District administration and Islamic Foundation (IF) jointly organized the distribution ceremony at the conference hall of Deputy Commissioner (DC) yesterday afternoon.
Each of 164 beneficiaries was given bank cheques of the grants valued Taka 4,000, while 37 others received Taka 15,000 each as interest-free loans.
DC Abdul Jalil accompanied by IF Divisional Director Jalal Uddin and Additional DC Kolyan Chowdhury distributed the bank cheques.
Speaking on the occasion, DC Abdul Jalil said the Prime Minister had constituted the Imam and Muazzin Welfare Trust in 2001. The distressed and insolvent members of the trust are getting lump sum financial grants and interest-free loans for making them self-reliant after the proper use of the financial support.
He also said the role of imams and muazzins is very important towards freeing the society from all sorts of bad practices and other curses, including drug-addiction, dowry and child marriage and urged them to play their due role for welfare of the society and the nation as a whole.