53 females get midwifery refresher training in Rajshahi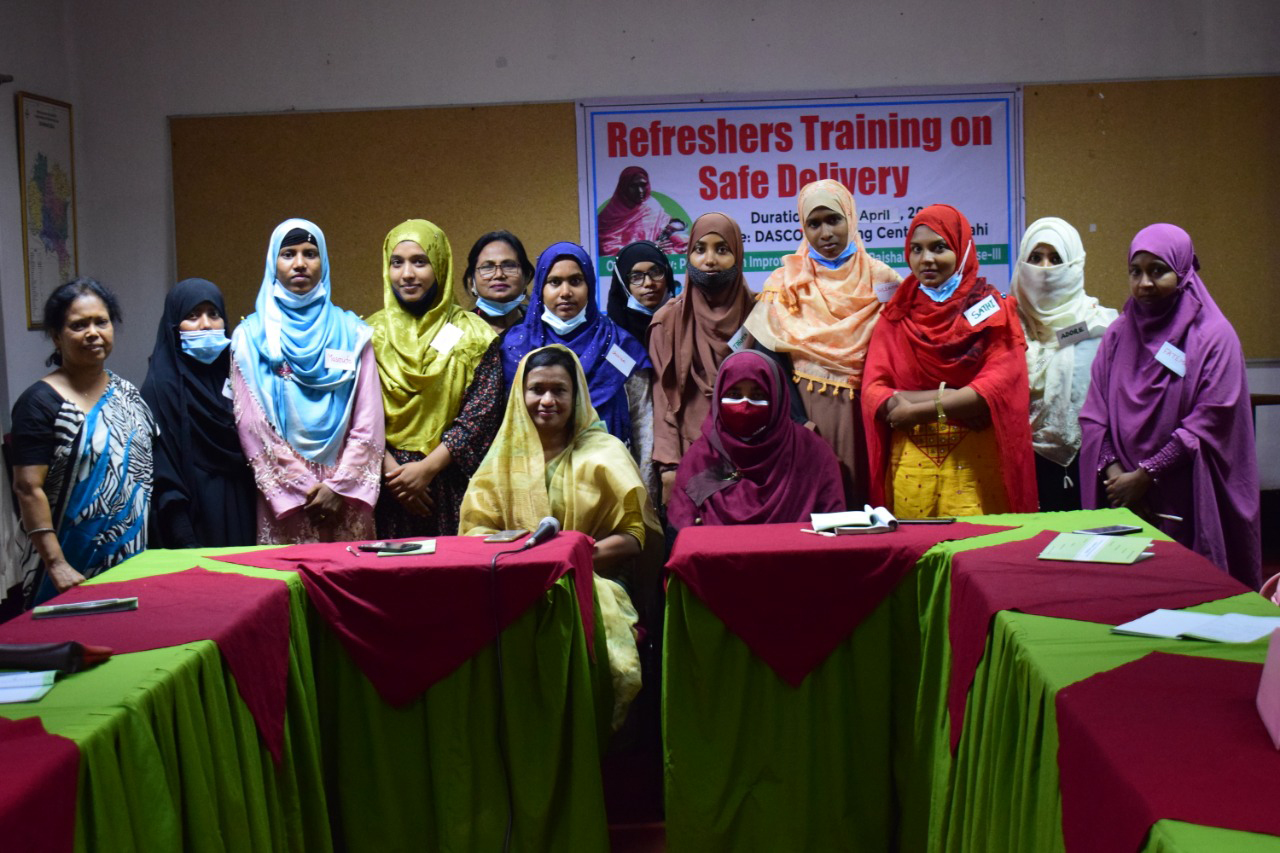 RAJSHAHI, May 19, 2022 (BSS)- Rizia Parveen, 24, a Family Welfare Visitor (FWV), is now happy in terms of delivering her services to the expectant mothers along with their newborn confidently after getting midwifery training recently.
Posted at Jhikra Union Health and Family Welfare Centre (UH&FWC) in Bagmara Upazila in the district, Parveen said she is able to manage the patients suffering from pregnancy related multiple complexities, Postpartum hemorrhage (PPH), at present.
She has attained trust of the community people because the training has enhanced her level of confidence to a greater extent.
FWV Mahafuza Khatun, 26, at Pachandar UH&FWC in Tanore Upazila, said the training was very necessary for them. She was able to recall the forgotten things in the two-day long training.
Farhana Akhtar, 23, another FWC at Nimpara UH&FWC of Charghat Upazila, said the practical session of the training was very beneficial to them. She mentioned that she had managed the eclampsia patient by herself and had been able to remove the placenta by hand.
They are among 53 female Sub Assistant Community Medical Officer, FWV, Midwife, Senior Staff Nurse from Bagmara, Tanore, Charghat Upazilas, who were imparted refreshers training on safe delivery .
Main thrusts of the training were to facilitate them to do safe delivery by hand besides supporting them to handle and manage complicated delivery and encourage institutional delivery.
On behalf of its Public Health Improvement Initiative Rajshahi (PHIIR) project, DASCOH Foundation organized the training in five consecutive phases at its office and at Labor Room of Ward No. 24 in Rajshahi Medical College Hospital (RMCH) last month.
Gynae and Obstetrics Consultants Dr Halima Khatun, Dr Eliza Khatun, Dr Nilufar Sharmin, Dr Wahida Khatun and Dr Rehena Parvin of RMCH conducted both the theoretical and practical sessions as facilitators and resource persons.
DASCOH Foundation has been implementing the PHIIR project supported by Swiss Red Cross (SRC) at five upazila health complexes, 27 Union Health and Family Welfare Centres, 15 USC and 110 Community Clinics under Bagmara, Charghat and Tanore upazilas in Rajshahi and Porsha and Sapahar in Naogaon.
The project is intended to improve the health status of the targeted population with a special focus on maternal, neonatal and child health at primary health care centres.
Dr Halima Khatun defined that a midwife is a health professional trained to support and care for women during pregnancy, labour and birth.
They help the patients to stay healthy in pregnancy and if no complications arise, to give birth with little intervention. Midwives also care for you and your baby in the first few weeks.
So, the role of the trained midwives is very important towards safe delivery in the rural health facilities.
Tozammel Haque, Project Manager of PHIIR, said the participants were given ideas about safe delivery, antenatal cares (ANC), postnatal cares (PNC) and neonatal cares intensively.
Hesaid the present government of Prime Minister Sheikh Hasina is determined to run the rural health facilities effectively for betterment of the rural people.
So, they are working here to supplement the government endeavour through reactivating many health facilities.
"We have, so far, provided 4,233 ANC, 663 PNC, 4,645 family planning and 141,357 general and 13,371 child health care and 148 normal delivery services in the project covering areas," added Haque, giving an overview of the project activities.