Grassroots people get support of improving living, livelihood condition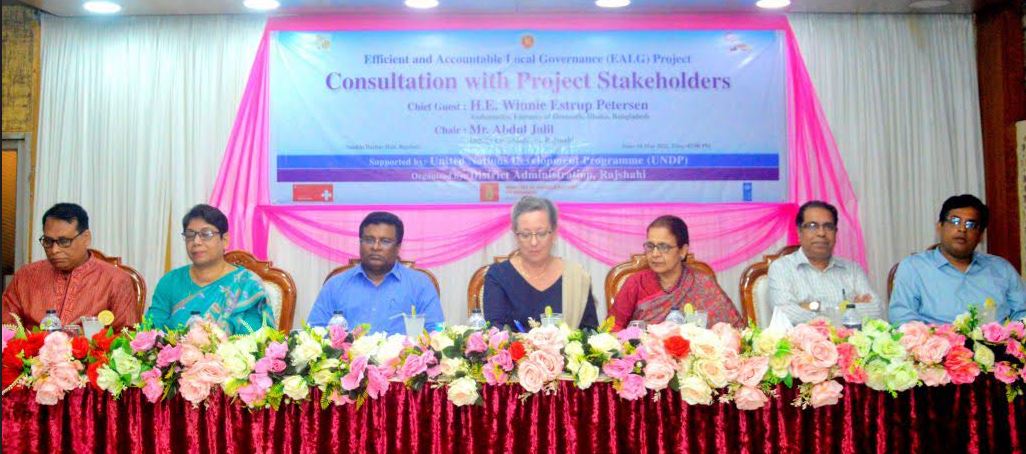 RAJSHAHI, May 17, 2022 (BSS)- Grassroots people, including the marginalized, underprivileged and ethnic minority ones, are getting support for improving their living and livelihood conditions as the government has been implementing multidimensional time-fitting programmes.
As a result of implementation of the projects constantly, positive changes have become visible everywhere in the villages contributing a lot to infusing dynamism into the uplifting activities of rural livelihood.
The views were exposed in a consultation with project stakeholders at Nanking Darbar Hall in the city on Monday evening largely attended by administrative officials, public representatives, beneficiaries and others concerned.
The District Administration organized the meeting in association with Efficient and Accountable Local Governance (EALG) Project and United Nation Development Programme (UNDP).
Danish Ambassador to Bangladesh Winnie Estrup Petersen addressed the meeting as chief guest, while Deputy Commissioner (DC)) Abdul Jalil in the chair. Senior Adviser to the Danish Embassy Aminuzzaman, Deputy Director of Local Government Division Shahana Akhter Jahan, UNDP Programme Analyst Mozammel Haque and Prof Pronob Kumar Pandey from the Department of Public Administration in Rajshahi University also spoke.
Expressing her satisfaction over the rural development activities Danish Ambassador Winnie Estrup Petersen hoped that the best practices will be continued in the days to come.
DC Abdul Jalil told the meeting that various activities, including ward meeting, open budget and public hearing are being conducted in Union Parishad (UP) through the EALG project.
Around 270 ward meetings were held in 30 UPs in the district. Apart from this, public hearings were arranged at seven UPs with discussions on 99 issues and 16 of those were settled instantly.
Jalil also said the project has created paths of reaching the public representatives to the voters after the election. In each of the UPs, two ward meetings were held with participation of at least 200 to 500 people. Different projects of the UPs related to road development, ensuring healthcare, poverty reduction, water and sanitation and agriculture developments, are implemented based on the peoples' demands.
Sustainable Development Goals (SDGs) are being achieved through the UPs because these are very important among other local government institutions in the country. Each and every UP chairman must arrange ward meetings regularly thereby hopes and aspirations of the grassroots population can be reflected.
The project is being implemented in 30 UPs and two upazilas in the district aimed at establishing good governance in the local government institutions through ensuring transparency, accountability and citizens' participation in different development works.
Radhamoni Mardy, a beneficiary of Daingpara village, said they had no vaccination centre but got a temporary centre with intervention of the EALG project. At present, their babies are getting vaccines at the centre.
Earlier, Danish Ambassador Winnie Estrup Petersen visited the Monigram UP in Bagha Upazila and went round its premises besides holding a stakeholder meeting.