Jasim Polli Mela inaugurated in Faridpur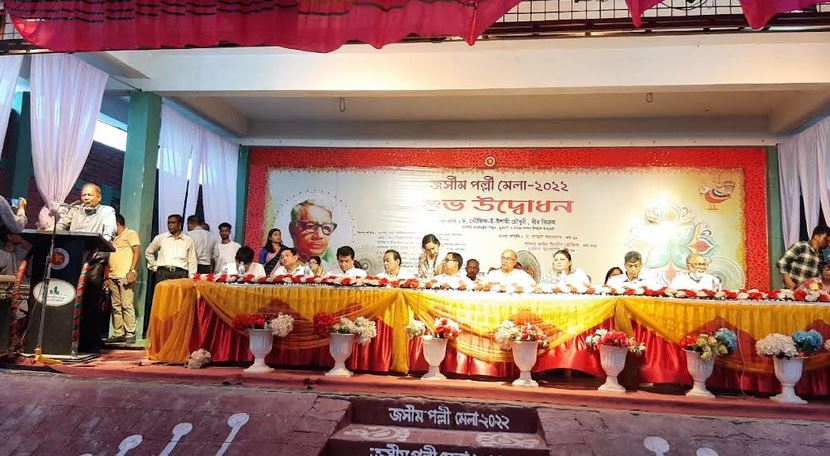 FARIDPUR, May 16, 2022(BSS) - A fortnightly Jasim Polli Mela (village fair) was inaugurated on Sunday in the district amid much fanfare and festivity.
Prime Minister's power, energy and mineral resources affairs adviser Dr. Tawfiq-e-Elahi Chowdhury inaugurated the fair on the bank of the river Kumar at Ambikapur village of the town.
Faridpur district administration and Jasim Foundation have jointly organised the fair to the ancestral home and grave of the poet Jasimuddin.
Rezvi Zaman, associate professor of English Department of Govt Rajendra College presented a key note paper on life and literary works of Polli Kobi Jasimuddin at the inaugural function.
Later, a discussion programme was held at "Jasim Mancha" presided by Deputy Commissioner Atul Sarker who is also the president of Jasim Foundation.
The discussants overviewed on the occasion that poet Jasimuddin is the pride of the country for his writings portraying the natural and rural beauties of the country. He is a powerful poet in the country and not mere a village poet only.
The people will be more encouraged as well as enthusiastic to know the poet and give concentration on his literary works. So, they will be devoted for the country in patriotic zeal as poet Jasimuddin desired, the discussants said.
The traditional fair is an initiative to highlight the bard in every corner, they mentioned.
Poet's sons - Dr Jamal Anwar, Khurshid Anwar and poet's daughter Asma Uddin Toufiq attended the function as distinguished guests on the occasion.
Superintendent of Police (SP) Alimuzzaman, Zilla Parishad Chairman Advocate Shamsul Haque, district newly elected Awami League president Shamim Haque, principal of Govt Rajendra College professor Asim Kumar Saha, Faridpur Pourashova Mayor Amitav Bose, Hameem Group Managing Director A.K Azad, Sadar Upazila Parishad Chairman Abdur Razzak Molla and district AL newly elected secretary Shah Md. Ishtiaq Arif, among others, spoke on the occasion.

A cultural programme including recitation, rendition of folk songs and dance was performed in the evening of the inaugural session.
A total of 161 temporary stalls have been set up on the fair premises.
Paying glowing tribute to the poet Jasimuddin, the fair was first arranged on the bank of Kumar river flowing in front of the family grave of the poet in 1993, source said.