Collective efforts needed to control fall armyworm attack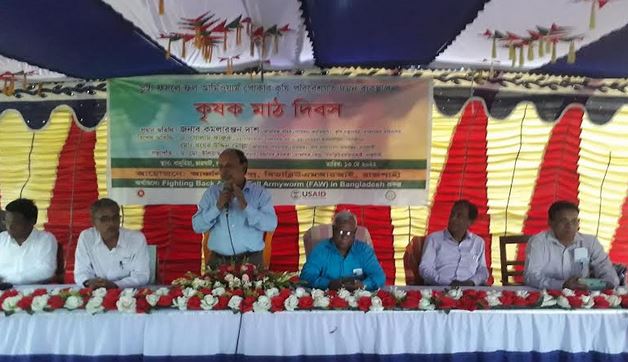 RAJSHAHI, May 15, 2022 (BSS)- Agricultural scientists and researchers
unanimously viewed that collective efforts of all the district, upazila and
agricultural officials and others concerned can be the best way of protecting
the maize farming from the fall armyworm attack.

Expressing their grave concern over the issue they also observed that the
fall armyworm cannot be killed with chemical pesticides. They can only be
controlled by applying bio-pesticides along with an integrated pest
management system, but cannot be eradicated fully.

They came up with the observation while addressing a farmers' field day
meeting titled "Eco-friendly Agriculture Pest Management System to Control
Fall Armyworm in Maize Crop" here yesterday.
Bangladesh Wheat and Maize Research Institute (BWMRI) organised the meeting
at Baduria village under Charghat upazila in the district supported by
Fighting Back Against Fall Armyworm in Bangladesh Project.

Additional Secretary to the Ministry of Agriculture Komolaranjan Das
addressed the meeting as the chief guest while Director General of BWMRI Dr
Golam Faruque and Director General of Bangladesh Sugar Crop Research
Institute Dr Amzad Hossain spoke as special guests with BWMRI Principal
Scientific Officer Dr Ilias Hossain in the chair.
Detailing the infection, extent of its damage and possible controlling
measures of the pest Komolaranjan Das said the fall armyworm has been
identified as devastating and badly damaging to the maize crop. Not only
maize, it attacks more than 80 crops.

In the current year, it has been detected along with identifying its extent
of damage.
He also said effective steps should be taken to control the worm after
spotting its existence through a pheromone trap supplied by Food and
Agriculture Organization (FAO).

Priority should be given to control it in the early stage of its attack and
wide-ranging awareness among the farmers in general can be a vital means of
attaining success in this regard.

The fall armyworm, the scientific name of which is Spodoptera frugiperda, is
widely spread in many Asian countries like India, Sri Lanka, Nepal, Thailand
and Myanmar.

Dr Golam Faruque said Bangladesh will face an epidemic if the spread of this
pest is not controlled at an early stage. The scientist said that the damage
caused by the fall armyworm was very high. They can destroy crops overnight.
If not well controlled, the fall armyworm can cause significant damage to
crops in its larvae stage.

It prefers maize, but can feed on more than 80 additional species of plants
including rice, sorghum, millet, sugarcane, vegetables and cotton.

Within five months of the detection of a plant-eating pest in Bangladesh, the
FAO has come up with an emergency project to contain possible spread of the
armyworm, Dr Faruque told the meeting.