Promoting value added products through processing stressed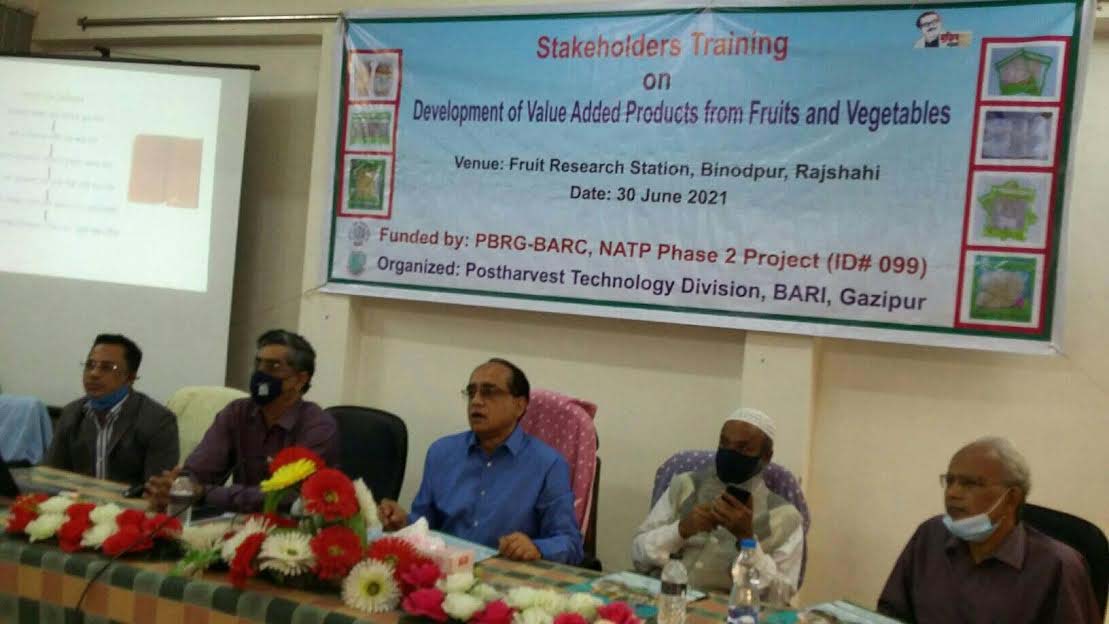 RAJSHAHI, Nov 27, 2021 (BSS)- Fruits and vegetables, including jackfruit, mango, potato and tomato, can be turned into various value added products through processing after the best uses of modern technologies.
Prospect of agro-processing enterprises is bright in the region as it produces surplus fruits and vegetables every year. Entrepreneurs and businessmen should come forward and work together to intensify the region's economic condition through promoting the agro-processing sector.
Agricultural scientists and researchers came up with the observation while conducting technical sessions of a daylong stakeholder training titled "Development of Value Added Products from Fruits and Vegetables" in Rajshahi today.
Postharvest Technology Division (PHTD) under Bangladesh Agricultural Research Institute (BARI) organized the training at Fruit Research Station (FRS) disseminating various low-cost technologies for fruit and vegetable processing.
Additional Secretary to the Ministry of Agriculture Rezaul Karim, Director of Bangladesh Sugar Crop Research Institute Dr Samajit Kunmar Paul and FRS Principal Scientific Officer Dr Alim Uddin addressed the workshop as resource persons.
PHTD Chief Scientific Officer Hafizul Haque Khan and Senior Scientific Officer Dr Golam Ferdous Chowdhury conducted the training sessions sharing their expertise on the issue.
The participants were given ideas on the introduction of vacuum frying technology to produce quality fried products coupled with the principle of dried products processing from fruits and vegetables.
Some other processing issues, including the principle of fermented, osmotically dehydrated, beverage and ready to cook products from fruits and vegetables, steeping preservation of green mango, processing of pickles from green mango and processing and preservation of jackfruit chips, were discussed elaborately.
In his remarks, Rezaul Karim urged the participants to promote agro-processing cottage and small industries after the best uses of knowledge acquired from the training.
He said the present government of Prime Minister Sheikh Hasina has been working relentlessly for making the agriculture sector profitable through inserting mechanization and processing ventures.
So, all the authorities and individuals concerned should supplement the government endeavors through performing duties with utmost sincerity and honesty, he added.