Jamalpur AL brings out procession against communal violence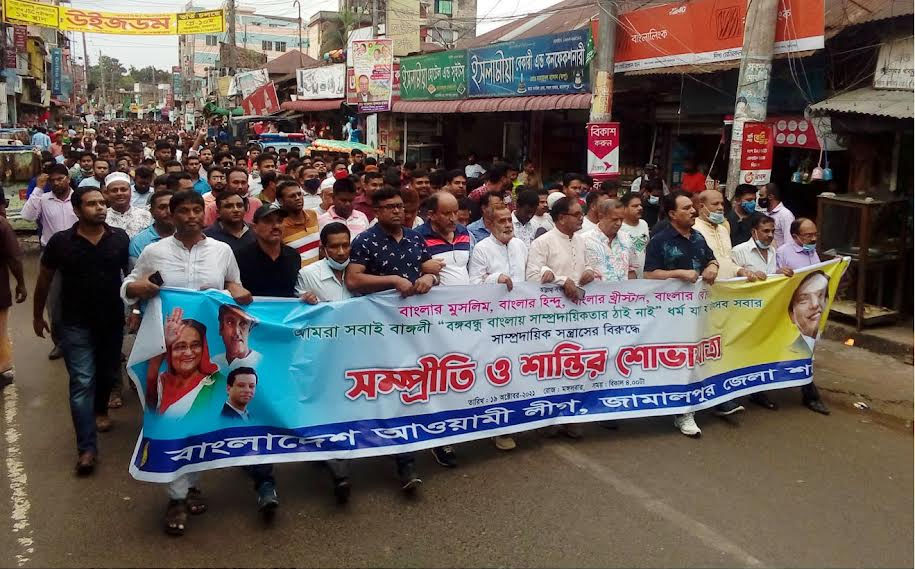 JAMALPUR, Oct 20, 2021 (BSS) - The District Awami League (AL) yesterday
brought out a peace procession here in protest against the recent communal
attacks in several areas of the country and for establishing peace and
communal harmony in the district.
The procession was brought out from Bakul Tola area in the district town
and ended at Doyamoye crossing after marching different streets of the town.
Later a discussion was also held with the district AL President Advocate
Mohammad Baki Billah in the chair.
The meeting was addressed, among others, by the district AL general
secretary and Jamalpur Zila Parishad Chairman Faruk Ahmmed Chowdhury,
Jamalpur Town AL president Masum Reza Rahim and Jamalpur Municipality Mayor
Md Sanowar Hossain Sanu.
Speakers called upon the leaders and workers to keep vigil against the
communal forces.
They also said that since Bangladesh is a secular country, people of all faiths
perform their religious rites independently. The AL leaders also urged all to
remain alert to avoid any toward incidents.