Forging social movement against food waste and adulteration stressed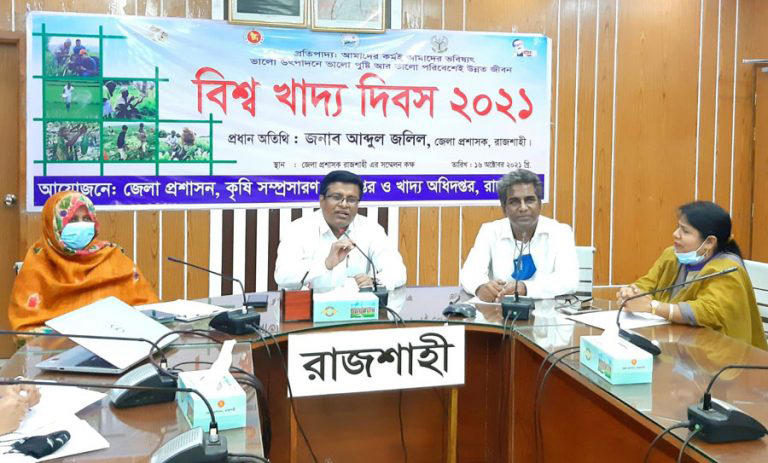 RAJSHAHI, Oct 17, 2021 (BSS) - Concerted efforts of all the government and
non-government organizations concerned have become indispensable for
protecting agriculture from all sorts of pollution and contamination to
ensure food safety.
Besides, utmost emphasis should be given on freeing the markets from all
sorts of unhygienic and unsafe foods because those are injurious to public
health.
The observations came at a discussion held at the conference hall of the
Deputy Commissioner yesterday in observance of the World Food Day-2021.
"Significance And How To Reduce Food Waste" was the main theme of the day.
The District administration, Department of Agriculture Extension and
Department of Food jointly organized the discussion.
Deputy Commissioner Abdul Jalil, Additional District Magistrate Sabiha
Sultana, Deputy Director of Department of Agriculture Extension Abdul Awal
and its Additional Deputy Director Umme Shalma and Upazila Food Controller
Omor Faruque addressed the meeting.
Abdul Jalil said the fight against food adulteration has intensified after
the government established Bangladesh Food Safety Authority (BFSA) in 2015.
He stressed the need for creating mass awareness among all levels of people
to check food waste and adulteration.
Highlighting the success of the present government towards attaining food
surplus he stressed the need for creating mass awareness to fight against the
food waste and adulteration malpractices.
He mentioned that adulterated and contaminated foods always pose a serious
threat to the public health and called for taking punitive measures against
the food adulteration and contamination so that no more dare to commit such
types of crimes.
The existing acts and the law enforcers alone would never be able to
salvage the situation unless people from all walks of life became adequately
aware about the harms of taking adulterated foods and took firm stand against
such immoral mindset.
'We need the people to come forward to stop these harmful practices,' he
added.