Durga Puja being celebrated peacefully in Rangpur division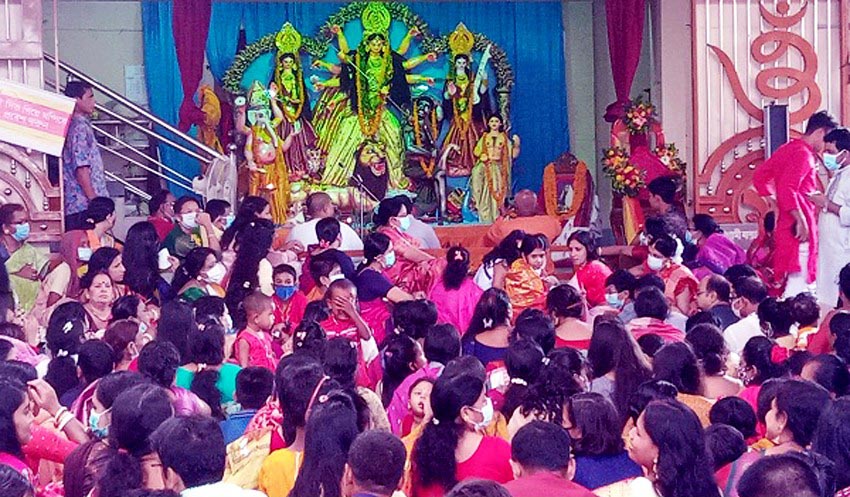 RANGPUR, Oct 14, 2021 (BSS) - The Sanaton community continues celebrating
the five-day Durga Puja, their greatest religious festival, with due
religious fervour, festivity and enthusiasm in a peaceful atmosphere in
Rangpur division.
The devotees of all ages including men, women, boys, adolescents, girls
and youths attired in colourful dresses thronged Puja mandaps on the
Mahanavami today to have a glimpse at goddess Durga and sought blessings for
the well-being of humanity.
Despite restrictions imposed due to the Covid-19 pandemic, the Puja mandap
premises became overcrowded today and wore eye-catching looks in the
division.
According to police and Bangladesh Puja Udjapan Parishad (BPUP) sources,
the celebration will end through immersion of the idols erected in 5,189
Durga Puja mandaps in eight districts of the division after celebration of
the Mohadashami tomorrow.
Local administrations, police, Rapid Action Battalion (RAB)-13, district
and upazila units of BPUP have taken adequate steps for peaceful celebration
of the festivity amid uninterrupted power supply everywhere.
Besides, members of Ansar-VDP have been deployed at all mandaps for
ensuring peaceful celebrations of the Durga Puja festivity in all eight
districts under Rangpur division.
According to official sources, a record number of 5,189 Durga Puja mandaps
has been erected in Rangpur, Nilphamari, Lalmonirhat, Kurigram, Gaibandha,
Panchagarh, Thakurgaon and Dinajpur districts of the division this year.
The government distributed 500 kilograms of rice as special relief rice
among each of the Puja mandap authorities to assist the Sanaton community in
celebrating their greatest religious Durga Puja festivity.
In Rangpur, 473.50 tonnes of rice was distributed among all 847 Puja
mandaps in the district to assist the Santon community in celebrating the
Durga Puja festivity, said District Relief and Rehabilitation Officer (DRRO)
of Rangpur ATM Akhteruzzaman.
Talking to BSS this evening at Shree Shree Karunamoyee Mandir Durga Puja
Mandap in the city, devotees Shushanto Roy, Putul Barman and Kakoli Rani
expressed satisfaction over the security steps taken for peaceful celebration
of Durga Puja.
"We are offering prayers, Puja, archana, kirtons and other religious
rituals peacefully amid huge enthusiasm and cheerfulness," said another
devotee Asrukona Roy.
Rangpur Metropolitan Police Commissioner Mohd Abdul Alim Mahmud today
visited a number of Durga Puja mandaps and greeted the Sanaton devotees on
the occasion of the Durga Puja festival in the metropolis.
"We have taken sufficient steps and security measures to ensure peaceful
celebrations of the five-day religious festival at all 156 Puja mandaps
located under all six police stations of Rangpur Metropolitan Police," Alim
told BSS tonight.
Mayor of Rangpur Mostafizar Rahman Mostafa visited different Puja mandaps
today in the city and exchanged greetings with the Sanaton devotees on the
occasion of the Durga Puja festival.
Superintendent of Police of Rangpur Biplob Kumar Sarker also visited
different Puja Mandaps across the district and greeted the Sanaton community
people on the occasion of celebrations of Durga Puja in a peaceful
atmosphere.
Divisional Commissioner Abdul Wahhab Bhuiyan and Deputy Inspector General
for Rangpur Range Police Devdas Bhattacharya also visited different Durga
Puja Mandaps and exchanged greetings with the Sanaton community people.
President of Rangpur district unit of BPUP Ajoy Prasad Babon expressed
happiness over the steps taken by the government and said that they had been
offering prayers, puja, archana, kirtons and other rituals peacefully.