Journalists' role to combat illegal wildlife trade stressed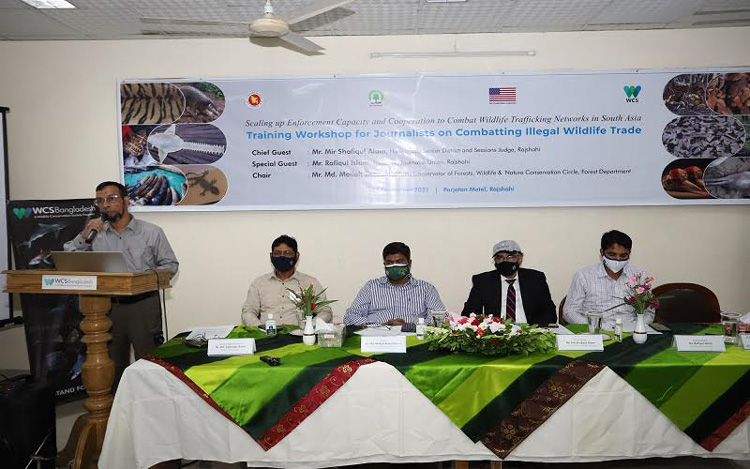 RAJSHAHI, Sept 25, 2021 (BSS) - Effective role of the journalists has
become crucial to protect and conserve the country's wildlife through
combating its illegal trade.
Professional journalists can play a vital role to create public
awareness about the importance of wildlife through their in-depth reporting
and video documentary.
Wildlife experts came up with the observation while addressing a daylong
training workshop for journalists on combating illegal wildlife trade held at
Parjatan Motel conference hall in Rajshahi city today.
Wildlife Conservation Society (WCS) and Department of Forest jointly
organized the workshop under the programme of scaling up enforcement capacity
and cooperation to combat wildlife trafficking networks in South Asia.
Senior District and Session Judge Meer Shafiqul Alam addressed the
workshop as chief guest, while Regional Forest Conservator Mollah Rejaul
Karim was in the chair.
WCS Country Representative Dr Jahangir Alam, Wildlife Protection
Director Jahir Uddin Akan, Legal Adviser Dr Lasker Maksudur Rahman, Senior
Adviser Tariqul Islam and WCS Programme Coordinator Samiul Mohsenin conducted
the training sessions as resource persons.
In his remarks, the chief guest said the data related to the illegal
wildlife trade should be depicted in mass- media properly to generate public
awareness and journalists' role is very important in this regard.
He also called for proper conservation of wildlife for maintaining
environmental balance stressing the need for more public awareness about the
importance of wildlife. Existence of wildlife is very important for
protecting biodiversity, he added.
Mollah Rejaul Karim opined that the wildlife population has been
gradually declining due to various reasons including shrinking of their
habitat. That is why time-fitting measures should be adopted.
He said wildlife sanctuaries are very important for protecting the
natural world. So, ensuring security to the wildlife has become an urgent
need, he said.
All government, non-government and research organizations concerned
should come forward and work together to protect the existing wildlife and
nature from further degradation, he added.
In the workshop, the participating journalists were given knowledge on
how to write good media reports to help the law-enforcers to combat wildlife
trade.