Consumption of zinc rice to overcome malnutrition stressed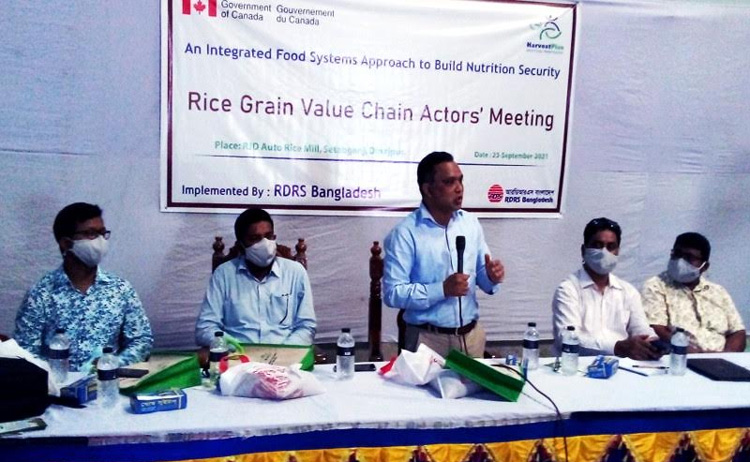 RANGPUR, Sept 24, 2021 (BSS) - Experts at a meeting have stressed on
building up an integrated value chain system for marketing of bio-fortified
zinc rice so that people could easily consume the rice at grassroots level to
overcome malnutrition-related diseases.
The opinion came at the "Rice Grain Value Chain Actor's Meeting' organised
by RDRS Bangladesh at RJD Auto Rice Mills auditorium in Bochaganj upazila of
Dinajpur district on Thursday afternoon," said a press release issued this
evening.
Thirty-five agriculturists, paddy traders, rice wholesalers, auto rice
millers, female leaders of community-based organisations and journalists
attended the event arranged under the Integrated Food Systems Approach to
Build Nutrition Security (IFS) project.
District Controller of Food for Dinajpur SM Saiful Islam attended the
event as the chief guest with Executive Director of RJD Auto Rice Mills Golam
Kibria Jonny in the chair.
Bochaganj Upazila Controller of Food Md Nurunnabi and Officer-in-Charge of
Local Supply Depot Debendranath Roy were present as special guests.
Agriculture Officer of RDRS Bangladesh Agriculturist Shahinur Islam
discussed goals of the IFS project being implemented with the assistance of
HarvestPlus Bangladesh.
"We are supplying quality seeds of zinc rice to farmers through rice seed
dealers and retailers, collecting produced paddy through paddy traders and
reaching those to auto rice millers and marketing the rice through local rice
traders making those available at lower costs at grassroots levels," he said.
Project Coordinator of HarvestPlus Bangladesh Agriculturist Md Mazibar
Rahman discussed the success achieved in farming zinc-enriched rice and put
importance on ensuring an integrated marketing system to reach the rice to
grassroots people.
"Zinc deficiency hinders physical and mental growth of children, causes
baldness, maternal problems, diarrhea and pneumonia and other complications,"
he said, adding that zinc rice reduces infertility and increases immunity.
The chief guest suggested keeping nutritional values of zinc rice intact
by husking the paddy using 'Dheki', a traditional wooden device now on the
verge of extinction, for its regular consumption by people to eliminate
deficit of minerals and nourishments.
Talking to BSS, Senior Coordinator (Agriculture and Environment) of RDRS
Bangladesh Agriculturist Mamunur Rashid said they have mobilised three Auto
Rice Mills who collected 700 tonnes of zinc rice from farmers during the last
Boro season.
"After milling of the paddy, 380 tonnes of clean rice were produced and
marketed through 20 rice wholesalers in Rangpur division," he said, adding
that efforts are on to develop an integrated zinc rice value chain involving
all actors concerned.