Ensuring institutional delivery for eliminating obstetric fistula stressed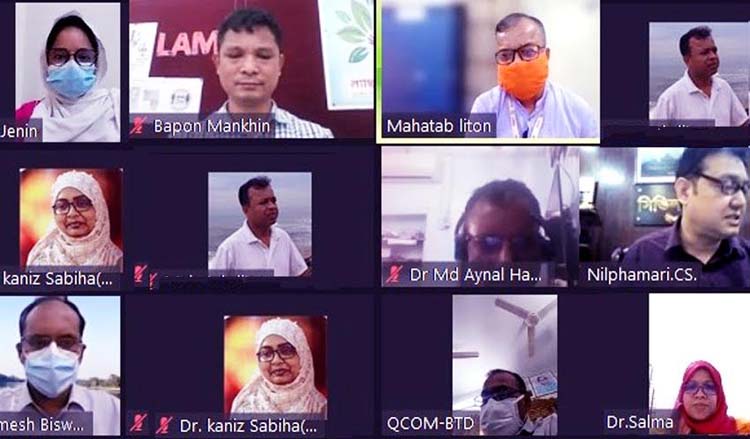 RANGPUR, Sept 21, 2021 (BSS) - Experts at a meeting today stressed on
ensuring institutional delivery of pregnant mothers alongside antenatal and
postnatal supervision to eliminate obstetric fistula to attain the
sustainable development goals (SDGs) by 2030.
They viewed this at the 'Divisional Meeting on Fistula in Rangpur
Division' organised virtually by LAMB Hospital, based at Parbotipur in
Dinajpur district, with assistance of the Department of Health Services and
the UNFPA Bangladesh.
Rangpur Divisional Director (Health) Dr Md Motaharul Islam as the chief
guest virtually attended the event moderated by Acting Project Manager of the
Fistula Elimination Project of LMAB Hospital Mahatab Liton.
Divisional Deputy Director (Health), Divisional Assistant Director
(Health), Civil Surgeons, Deputy Civil Surgeons, Superintends of different
district hospitals, Gynecologists, NGO executives and journalists
participated in the event virtually.
Deputy Project Manager of the project Dr Tahrima Hossain presented a
keynote paper on 'End obstetric fistula in Rangpur and Rajshahi divisions:
Achievements and challenges' giving a summary of the present fistula
situation and way-outs as a resource person.
Technical Officer of UNFPA Bangladesh Dr Animesh Biswas presented
another paper on 'Obstetric fistula in Bangladesh- Progress and highlights'
narrating the fistula situation and ongoing fistula elimination activities in
the country as another resource person.
The resources persons discussed the causes behind the intolerable but
preventable disease, available treatment facilities and rehabilitation of
fistula patients.
They cited statistics of the identified fistula patients, numbers of
operated and rehabilitated fistula patients at the divisional and national
levels.
They put emphasis on creating social awareness to inspire people for
availing the institutional facilities for safe delivery and stop the social
curse of child marriage which is one of the major causes for developing
obstetric fistula during delivery.
They discussed the services being provided to fistula patients by LAMB
Hospital, different medical college hospitals, district and upazila level
hospitals, union level health service providing facilities in identifying and
referral of fistula patients for treatments.
The chief guest put importance on eliminating obstetric fistula, a
devastating injury in which an abnormal opening forms between a woman's
bladder and vagina, resulting in urinary incontinence, chronic health
complexities, depression and social isolation.
"Institutional delivery, stopping child marriage, identification of
fistula patients, counseling for their proper treatments, quality and safe
surgeries and rehabilitation are crucial to free the country from fistula and
attain SDGs by 2030," he said.