Mass-awareness to free society from drug abuse stressed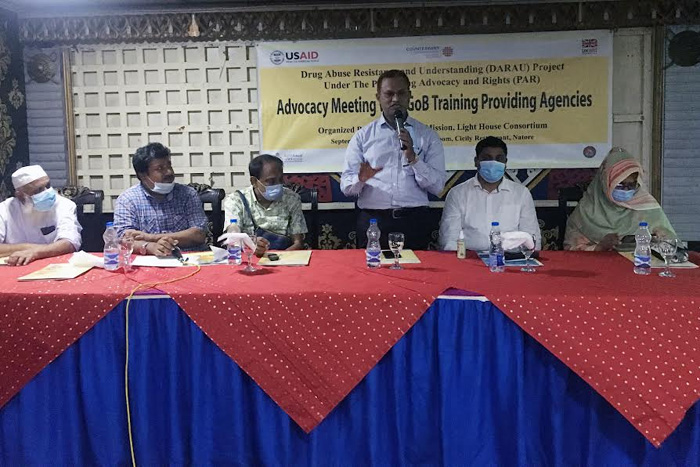 RAJSHAHI, Sept 3, 2021 (BSS) - Concerted efforts of the government and non-government organizations concerned has become crucial to free the society from abuse of drugs through creating mass-awareness on the issue.

Inclusion of anti-drug topics in training modules of the public institutions can be the effective means of creating mass-awareness against drug abuse to save people, particularly the youths, from drug-addiction.

Social watchdogs and development activists came up with the observation while addressing an advocacy meeting with GOB training providing agencies at Sicily Restaurant in Natore town on Thursday afternoon.

Dhaka Ahsania Mission (DAM) hosted the meeting under the 'Drug Abuse Resistance and Understanding (DARAU)' project being implemented with joint partnership of Light House Consortium.

Counterpart International has been implementing the project in Rajshahi and Natore districts under the 'Promoting Advocacy and Rights (PAR)' programme with financial support of USAID and FCDO.

The meeting sensitized the training providing agencies for strengthening their training and education curriculum through adding time-fitting content on adverse effects of drug abuse and its prevention.

It has also focused on creating awareness among the public in general has become crucial to check the abuse of drugs along with its illicit trafficking and trades.

Full-length support of public representatives and communities can be the best ways of making sure to contain the abuses of drugs through generating mass-awareness.

Assistant Director of the Department of Narcotics Control Alamgir Hossain addressed the meeting as focal person, while Civil Society Platform Convener Prof Alok Moitra was in the chair.

DARAU Project Manager Subrata Kumar Paul gave an overview of the project, demonstrating its aims, objectives and implementation strategy in his keynote presentation, while DAM Advocacy Officer Umme Jannat welcomed the participants.

Deputy Director of Department of Women Affairs Farida Yeasmin, Deputy Director of Department of Youth Development Atikuzzaman Khan, Research Officer of the District Education Office Tariqul Islam, Academic Superviser Salah Uddinand and DAM Project Manager Riaz Uddin, among others, also spoke.

In his remarks, Alamgir Hossain said the present government has zero tolerance against drug-addiction and urged all quarters to come forward to protect the young generation from the grip of social crime.

"We have to build a healthy society to achieve sustainable development goals," he said, adding the movement against drug abuse should be turned into a social movement. He urged all concerned to work along with the government to prevent drug abuse.

Subrata Kumar Paul told the meeting that cross-sections of people including women, parents, school and out-of-school children, adolescents, youth, transgender, public representatives and members of the civil society are being engaged in the anti-drug abuse campaign.

He said the project is intended to benefit around four lakh people either directly or indirectly.