Boosting fish production vital to meet protein deficiency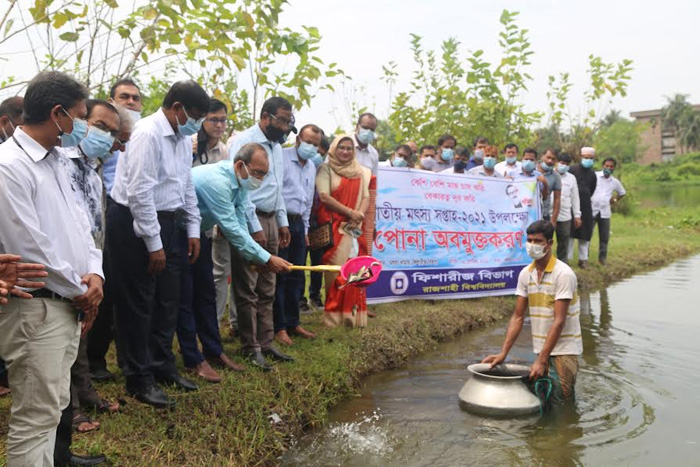 RAJSHAHI, Sept 3, 2021 (BSS)- Enhanced fish production is very vital to meet protein deficiency and poverty alleviation along with employment generation amid the adverse impact of the Covid-19 pandemic situation.
Fish production has increased to a great extent through the best use of existing natural resources.
Apart from this, conservation of the water resources and other wetlands can be the best ways of furthermore boosting fish production to meet up the gradually rising demands of animal protein.
Academics and fisheries scientists and researchers came up with the observations while addressing a meeting on Thursday afternoon. The Department of Fisheries in Rajshahi University (RU) hosted the meeting at its lecture gallery marking the National Fisheries Week-2021.
RU Vice-chancellor Prof Golam Sabbir Satter addressed the meeting as chief guest, while Pro-vice-chancellors Prof Chowdhury Jakaria and Prof Sultan-Ul-Islam spoke as special guests with chairman of the department Prof Monzurul Alam in the chair.
In his remarks, Prof Sabbir Satter said promotion of good aquaculture practice is vital for sound public health besides boosting the country's export list through ensuring safe fish farming and its production.
Need-based measures should be taken to bring all the fish cultivators, traders, feed manufactures, sellers and others concerned under necessary training to enhance their awareness in this field.
Prof Akhter Hossain highlighted the importance of boosting fish production in all aspects during his keynote presentation, while Prof Ishtiaque Hossain and Dr Amimul Ehshan spoke as panel discussants.
They called for involving more people in the fish farming activities for the sake of meeting the protein demands as only the fish fulfill at least 60 per cent need of the animal protein especially of the poor and marginal communities.
The discussants viewed that formulation of tough law against dumping of ponds and other natural water bodies has become an urgent need as the aquatic biodiversity and fish production of the area have been decreasing gradually due to various manmade and natural causes.
Besides, they recommended a time-fitting policy for freeing the water resources from all sorts of pollution and contamination so that the indigenous fish species could be saved from extinction.
They advocated for inspiring the farmers, providing them with latest scientific technologies and educating them in producing quality fish fries and fingerlings so that they cultivate fish more.
Earlier, the guests and scientists released fish fry in the freshwater fish conservation reservoir of the department.