Pre-preparatory meeting on Durga Puja held in Jamalpur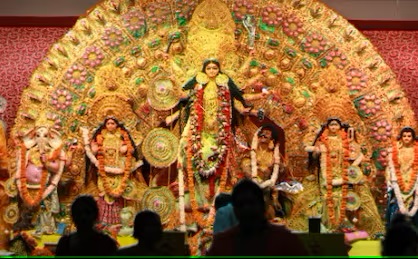 JAMALPUR, Oct 1, 2023 (BSS) - A pre-preparatory meeting for Durga Puja celebration was held at the conference room of Superintendent of Police in the town on Saturday.
Superintendent of Police Md Kamruzzaman presided over the meeting.
Additional Superintendent of Police, Officer-in-charge of all the seven police stations, President and Secretary of Bangladesh Puja Utjapan Parishad of upazila and district units and local journalists took part in the meeting.
Participants at the meeting said the incumbent government always vigil to protect the communal harmony among the people of all sects across the country. They said the upcoming Durga Puja will be celebrated peacefully as communal cooperation has been prevailing in the district.
In the meeting, Md Kamruzzaman said all steps will be taken so that the Hindu community can celebrate the Puja in a peaceful and festive atmosphere.
He said the law enforcers and volunteers will be deployed in each Puja Mondap to maintain law and order situation. Besides, each Puja Mondap will come under close circuit camera for monitoring, he added.
Additional Superintendent of Police Sohel Mahmud, Officer-in-charge of Jamalpur Sadar Police Station Kazi Sahnewaj, President Bangladesh Puja Utjapan Parishad, Jamalpur District unit, Prodip Kumar Som Ranu, its General Secretary Siddatha Sankar Roy, General Secretary, Bangladesh Puja Utjapan Parishad, Islampur Upazila and Trustee ofHindu Religious Welfare Trust (Jamalpur-Tangail) Ankan Karmakar, journalists- MA Jalil, Hafiz Rayhan Sada and Fazle Elahi Makam spoke, among others, at the meeting.
Durga Puja, one of the greatest religious festivals of the Hindu community, will be celebrated from October 20 to October 24.
A total of 206 Duga puja will be erected in the district this year.