Proper implementation of law stressed to control sound pollution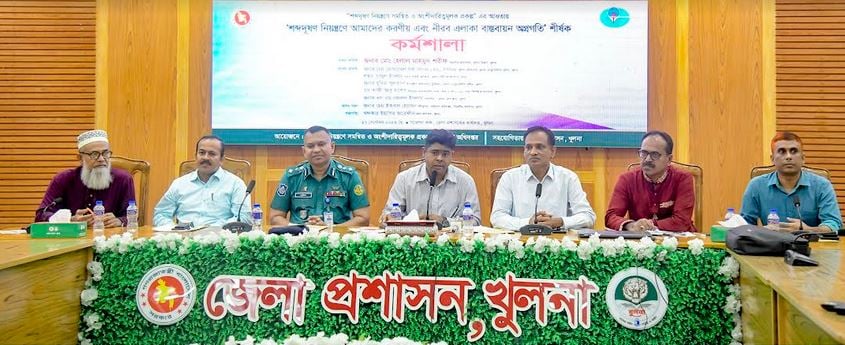 KHULNA, Sept 27, 2023 (BSS) - Speakers at a workshop today underscored the need for awareness of mass people and proper implementation of law to control sound pollution.
There is no alternative to control sound pollution for building healthy next generation, they said at a workshop style 'Our duty to control sound pollution and implementation progress of quiet areas' held at the conference room of the deputy commissioner's office in the city.
In cooperation with the deputy commissioner's office, the Department of Environment, Khulna organised the workshop under Integrated and Participants project.
Additional commissioner (General) of Khulna Firoz Shah addressed the workshop as the chief guest while Khulna deputy commissioner Khondokar Yasir Arefin was in the chair.
Director of the Department of DoE Md Iqbal Hossain screened the keynote paper while additional police commissioner Md Sazid Hossain, panel mayor Ali Akbor Tipu, senior consultant of E&T of Khulna General Hospital, deputy police commissioner (Traffic) Monira Sultana, ex-president of Khulna Press Club S M zahid Hossain, ex-president of Khulna union of Journalists Md Mahbub Alam Sohag, among others, addressed the event.
Md Iqbal Hossain, in his keynote paper, said 30 types of serious illnesses are caused by sound pollution.
According to World Health Organisation (WHO), at least five percent people of the world are the victims of sound pollution, he said, adding that over 50 decibels of sound can creates high blood pressure, over 65 decibels of sound can creates heart disease, over 90 decibels of sound creates neurology problem and over 120 decibels of sound damages hearing organs in human body.
In the Sound Pollution (Control) Act-2006, first time law violators will be awarded one month imprisonment and fined Taka 5,000. They will have to serve imprisonment for six months and fine Taka 10,000 for each time violation later.
Councilors, teachers, scholars of mosques, drivers of different transports, journalists and stakeholders attended the workshop.